Details
Last Activity:
Feb 20, 2009
See Less
Friends (150)
About Me
I am a mother, a wife, a daughter, a sister, and a friend before I am a photographer. I am not into "the scene". I am just a gal that likes to take photos when she is given the chance. I dont work for free though. Hold on... let me say that again. I DONT WORK FOR FREE. TFP means free to me. It's not a trade, It's time away from my daughter. I wont trade that for anything. I have been doing this long enough and I have paid my dues. I may seem brash, but I prefer getting to the point instead of pussyfooting around. I am not a cookie cutter. I try really hard to make all my photos as original as can be. I just started using photoshop - to enhance my photos, not save them. If you ask me, we can shoot on 35mm film and then we will have some real fun. That also means you will be waiting awhile for your photos since I process and print them myself. That's my real love. I have many great friends and loyal supporters of my art. I am a lucky girl.
Verified Credits (0)
Worked with Summers Coast? Share your experience and become verified!
Add Credits
Credit Notes
*Upcoming shoots and/or events:
Tainted Love Pin Up Sessions W/Ama Lea Photo and Micheline Love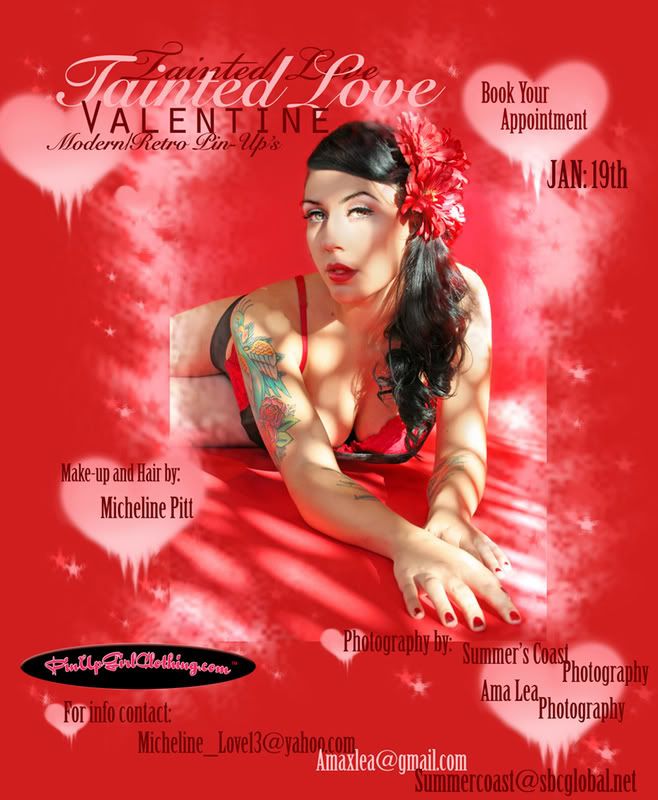 People I've worked with:
*Companies*
Lost Cauze Clothing Co.*
Cheko Boutique and Make-up Studio* Mayhem #337147
Doggy Daycare and Supplies *
Manakin Tattoo (now MT Tattoo)*
Sassy Sally's
Zombie-kitten.com*
Uncle Fezter /
http://stores.ebay.com/Den-Mothers-and-Lodge-Brothers
/Mayhem #467916
No Boarders Productions*
Betty Buccaneer Clothing*
The Banyan Club Hawaii
Busy Bee Cafe - Ventura
The Boneyard Betties
Poison Candy
Angelique Boutique
Ventura County Derby Darlins
S.F. Kids Charities
Dole Corp (yes, the pineapple company...)
Dying Breed Designs
King Kat USA
*Models/people that have been nice enough to let me shove my camera into their face*
Dayna DeLux Mayhem #2871
Candace Campbell Mayhem #111329
Gina Georgette Mayhem #44853
Vanessa Michelle Mayhem #11584
Lindsey Lou Mayhem #109945
Ivy D'Muerta Mayhem #344141*
Shandra Mayhem #171685
Andrea Young Mayhem #50843*
Von Eddie*
Nicole Mamuzich for Betty Buccaneer*
Katie Price*
Ruby Roo
Kristin Gill
Lacey Woods
Melonnie McBride
Ashlee Gassaway
Miss Jessica
Corinna Owens*
Shandi Lewis
Miss Billie Mae
Lola Dee Mayhem #372936
Mylessa "Burlesque Vixen" James
Jenny Black (formerly Jenny Chaos) Mayhem #22774
Vanessa Vixen Mayhem #74094
Cassie Wanda
GiGi Le Bouche Mayhem #205534
Aurora Valentine
*MUA's and Hair*
Angel Jagger* Mayhem #7271
Jennifer Corona Mayhem #22355
Judy Campos of Cheko* Mayhem #337147
Beatrice Najera*
Lexie Loo Mayhem #219114
Rob Ramirez for Pin-ups Hair Design Mayhem #181607
Ruby Roo
Glory Mayhem #225207
Micheline Love
*Media and/or Publications*
Ventura County Star
Bootleg Magazine
*Fashion Shows*
DDAS Halloween Costume Contest '06
Ventura Fall Fashion Show '06
*denotes that I have worked with that person on multiple occasions.