Details
Last Activity:
Dec 27, 2020
Experience:
Very Experienced
Compensation:
Paid Assignments Only
Hair Length:
Shoulder Length
See Less
Friends (725)
Lists (3)
Fetish and Latex
40 Photos
More of Emma Alicia
39 Photos
Simply Wonderful Favourites
110 Photos
See Less
About Me
Hey, my name is Emma Alicia! Hope you enjoy my portfolio

The quickest way to contact me is email, please message me for my address.

I am a 31 year old freelance model & actress working part time in both Sweden and Denmark.
I specialise in modelling alternative fashion and Latex clothing.
I have been modelling for over 15 years now and have trained as a musical theatre performer.
I am trained as an actor, and work as such, and so can provide emotion and real conviction in artistic shoots.
I am able to pose with minimal direction, and I am flexible due to dance and yoga. I am also a make up artist- When booking me please state if you would like me to do my own make up or not.

I have been published both nationally in the UK and internationally:
https://www.bedeseme.com
https://www.sublimerush.com
https://www.fixemagazine.com/post.php?postid=1036
Bizarre Magazine, 2 issues
Skin Two Magazine Issue 61
Alt Magazine Killer Queens Feature
I won Model Mayhem's Pic Of The Day!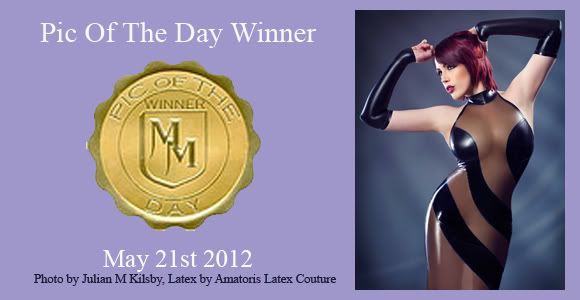 Find me on Facebook:
https://www.facebook.com/pages/Emma-Alicia/244959847998
Find me on Instagram:
Https://www.instagram.com/emma_alicia__

Verified Credits (0)
Worked with Emma Alicia? Share your experience and become verified!
Add Credits
Credit Notes
Latex Designers:

Fetasia Latex: *http://www.fetasialatex.com*
Surrogate Skin Latex: *http://www.facebook.com/pages/Surrogate-Skin-Latex/140278309340235*
AM Statik Latex: *http://www.modelmayhem.com/1325521*
Anatomic Bomb Latex *http://www.anatomicbomb.com/*
Violaceous Latex: *http://www.modelmayhem.com/1623881*
Cathouse Clothing *http://www.modelmayhem.com/1938203*
Amatoris Latex Couture


Photographers:

Starwinkle Photography: *http://www.starwinkle.com*
1 Click Photography: *http://www.1clickphotography.com*
Nocturnal Artist Photography *http://www.modelmayhem.com/1563157*
James Milne Photography: *http://www.modelmayhem.com/1797925*
John McIntire *http://www.modelmayhem.com/163415*
Peter Regan Hair
James Alexander *http://www.modelmayhem.com/815992*
WalnutWax Photography: *http://www.facebook.com/group.php?gid=56738539963*
JCG Photography *http://www.modelmayhem.com/1868722*
Campbell Photographic *http://www.modelmayhem.com/1575353*
Daniel Sutka *http://www.danielsutka.com*
Lawrence Jessop Photography *http://www.modelmayhem.com/1210710*
Shari Banks *http://www.modelmayhem.com/870917*
Laura Hince Photography *http://www.modelmayhem.com/782480*
Lighthouse Photography *http://www.modelmayhem.com/1406264*
Amethyst Photography *http://www.modelmayhem.com/870552*
Greg Bauregard
Mark Dobson Photography *http://www.markdobsonphotography.com/*
Chris Instinct *http://www.modelmayhem.com/737755*
Peter Whitfield *http://peterw.net-model.com*
Kate Laughton *http://www.modelmayhem.com/1245206*
Shannon Louise Photography *http://www.modelmayhem.com/648800*
Rozzie Williams Photography *http://www.modelmayhem.com/893383*
Helen Lambert Photography *http://www.modelmayhem.com/357370*
Izzy Fox *http://www.modelmayhem.com/754190*
Morbidly Inclined Photography *http://www.modelmayhem.com/541049*
Kitaeru Photography *http://www.modelmayhem.com/1382258*
Mike Dee of Alight Studios *http://www.modelmayhem.com/261754*
Thane "rudi" Brooker *http://www.modelmayhem.com/1261346*
Tony Else Photography *http://www.modelmayhem.com/858235*
Rick Martingdale Photography *http://www.modelmayhem.com/1071475*
Helen Mason Photography *http://www.modelmayhem.com/849959*
Jakata Hair Salon *http://www.jakatasalon.co.uk/*
ShotID Photography *http://www.modelmayhem.com/328748*
Mounters Photography *http://www.mountersphotography.co.uk*
Big RadArt Photography *http://www.modelmayhem.com/847257*
Pandoras Box Photography *http://www.modelmayhem.com/1069331*
mmm WOW photography *http://www.modelmayhem.com/180761*
Vanessa Ameneyro *www.facebook.com/pages/Vanessa-Ameneyro-photographer/117141137755?ref=ts*
Sam D'Cruz *http://www.modelmayhem.com/704679*

Designers:

Olivia Of Gainsborough: *http://www.facebook.com/pages/Olivia-of-Gainsborough/275660499725*
Black & White Clothing:*http://www.facebook.com/pages/Black-White-Clothing-Collection/108476105900537*
Eau De Mars Clothing: *www.eaudemars.com*
Hayley Sharman Designs *http://www.modelmayhem.com/1731298*
Tigers Tat: *http://www.modelmayhem.com/1845072*
Lady Hollywood: *http://www.ladyhollywood.bigcartel.com*
Claudia Pink Jewelry
Ed Hardy
Rawhide Corsets *http://www.modelmayhem.com/1602762*
Sara Hussein

Models:

Collette Von Tora *http://www.modelmayhem.com/466539*
Ulorin Vex *http://www.modelmayhem.com/2178*


MUA/Hair:

Alice Bizarre Make Up: *http://www.modelmayhem.com/1961569*
Paul Benjamin Fletcher MUA *http://www.modelmayhem.com/1750915*
Peter Regan Hair
Bridget Taylor *http://www.modelmayhem.com/504365*
Scott Jessop Hair
Lisaspfxartist MUA *http://www.modelmayhem.com/1016373*
Chez Lui Artistry *http://www.modelmayhem.com/1528548*
Jakata Salon *http://www.jakatasalon.co.uk/*

Publishers/Magazines/Print:

Bizarre Magazine Issue 178
Bizarre Magazine Issue 174
Skin Two Magazine Issue 61
Sublime Rush Magazine *http://www.sublimerush.com/*
Alt Magzine Killer Queens feature: *http://www.altfashion.co.uk/killer-queens.html*
Fixe Magazine *http://www.fixemagazine.com/post.php?postid=1036*