Details
Last Activity:
Feb 04, 2016
See Less
Friends (888)
About Me
We design and sell only authentic Brazilian swim and fitness wear for sale on our website
http://www.SoBrazilClothing.com
If interested contact us at
[email protected]
So Brazil Facebook Fan Page:
http://www.Facebook.com/SoBrazil
Facebook: Facebook.com/Wil Adams Sobrazilclothing
MySpace: MySpace.com/SoBrazilClothing
Orkut: Orkut.com/So Brazil Bikinis & Fitness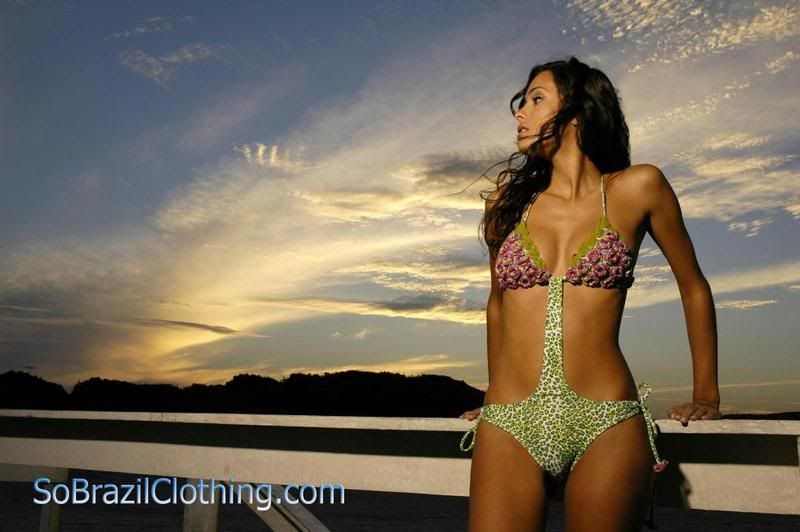 ******************************************************************************************************************
Want to model for So Brazil, Inc.? Read everything below carefully.
First off, however, regarding all the submissions that were sent in with the wrong photos or with tiny thumbnails so small they could pass for stamps on an envelope, we thought it is necessary to insert a few quotes from Simon Cowell of American Idol and one of my favorite models ever, Tyra Banks. Both have a way with his words that get a point across effectively.
Model Mayhem is a great place to network and find work. We get friend requests every day from--I would assume--models looking for work. We try to look at the portfolios but it is near impossible to look at each and every MM friend--and it IS impossible to check back for portfolio updates.
We don't book all year but when a shoot comes up we no longer go through the lengthy auditions, call backs, etc. We typically have already made a decision based upon a submission that we received that we liked. It is that simple. We've even booked models that we spotted at a party or event.
All this to say, you may be missing out on an opportunity that you passed over just because you added us but did not send in a few specific photos. Unlike other clothing companies, you will not annoy us by emailing your photo submissions (well, unless you commence to call us repeatedly afterwards). I encourage you to resubmit often new photos that you think will catch our eye. Note--and I don't think we can say this with more emphasis--that we pay specific attention to how your body will look in one of our bikinis. Which brings us to the part about the Banks and Cowell quotes. Don't take the quotes out of context or be offended; we are including them solely to stimulate the submission process.
So, without further ado, we present Simon Cowell and Tyra Bank quotes in all their splendor:
"Not everybody is perfect, and I don't think we should be looking for perfect people."
Simon
"The object of this competition is not to be mean to the losers but to find a winner. The process makes you mean because you get frustrated."
Simon
"You are a saucy little thing aren't you?"
Simon
"I'm a perfectionist. Sometimes I have to remind myself that it's OK if there are flaws here and there."
Tyra
"Take responsibility for your self because no one will take responsibility for you."
Tyra
"I think you have to judge everything based on your personal taste. And if that means being critical, so be it. I hate political correctness. I absolutely loathe it."
Simon
PLEASE NOTE IT IS LIKELY YOU WILL NOT RECEIVE A RESPONSE FROM US IF YOU DID NOT SUBMIT ALL OF THE EXACT PHOTOS REQUESTED.
"If I said to most of the people who auditioned, 'Good job, awesome, well done,' it would have made me actually look and feel ridiculous. It's quite obvious most of the people who turned up for this audition were hopeless."
Simon
******************************************************************************************************************
We book throughout the year and are always looking for that perfect look! If you feel you have the look we are looking for, please send the following photos and information for our consideration.
BTW, UNLIKE OTHER SEGMENTS IN THE BUSINESS, WE DO APPRECIATE MODELS WITH CURVES....
IMPORTANT: You MUST submit ALL of the required photos and information to be considered. If you do not send the specific photos we request we will NOT respond to your submission. Send your submission of the following to
[email protected]
:
* Head shot
* Full frontal shot in swimwear (standing straight to the camera)
* Full back shot in swimwear (standing straight looking away from the camera)
* Complete statistics:
Height
Body measurements
Dress Size
Shoe size
Natural hair and eye color
Age
Weight
Feet (good, excellent)
* Contact information (phone number, email, agency (not required), etc.)
* Experience
You do not have to have an agency and professional experience, however, experience is a plus. Photo submissions do NOT have to be professional but need to be large enough and clear enough for us to evaluate. We actually prefer untouched photos as we book live appearances and various other assignments. Full frontal and full back shots MUST BE STANDING FULLY FACING THE CAMERA AND NOT AT AN ANGLE, SITTING, TWISTED OR BENDING.
To be one of our fit models we need to see you as you would appear in one of our Brazilian cut bikinis. You may submit as many photos as you feel are necessary for us to evaluate you, however, you MUST submit at a minimum a head shot, full frontal, and full back shot to
[email protected]
IF YOU ARE SHY AND TIMID WITH YOUR BODY THEN DO NOT SUBMIT. WE DO NOT DO NUDE PHOTOS BUT WE FEATURE A FEW THONGS IN OUR COLLECTIONS. SELECTED MODELS WILL BE EXPECTED TO MODEL ANY PIECE CHOSEN FOR THEM.
Muito obrigado e boa sorte!
So Brazil, Inc.
Verified Credits (0)
Worked with So Brazil Clothing? Share your experience and become verified!
Add Credits