Details
Last Activity:
Jan 21, 2011
See Less
Friends (472)
About Me
NO TFP - ABSOLUTELY NO EXCEPTIONS. I DON'T HAVE THE TIME OR THE NEED FOR FREE WORK. DON'T WRITE ME TELLING ME HOW GREAT I AM AND YOU WANT TO WORK WITH ME UNLESS YOU'RE ASKING ABOUT MY RATES AND AVAILABILITY.

I AM AN AGENCY CONTRACTED MODEL, ACTOR, STYLIST AND PHOTOGRAPHER. SO TIME IS LIMITED AND MY RATES HAVE GONE UP.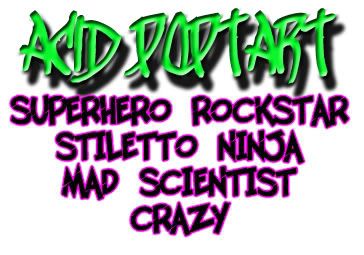 I wield a can of Aqua Net and a camera with equal amounts of lethality. Both seem essential to bring my visions to life. I can get anyone's hair into a mohawk. Pain is art and some degree of discomfort is usually a necessity in order to achieve the perfect shot. Could come from having your hair teased within an inch of it's life, could be some contorted position the photographer or model is forced into, could be having to fight weather elements. Point is, what we do isn't easy. Takes work, takes time, takes dedication, takes passion.

I'm immensely picky in what I do. A perfectionist to a fault. I know what I want and I get it. If you come to me as a model, you are my sacrifice. Make peace with that now and we'll get along fine. I'm a mad scientist who will piece together parts of everything I need at the moment to get a final result that is life itself. I create. If you have some cheesy idea that involves wardrobe that comes out of a costume shop and stripper heels and the suggestive uses of a lollipop; I am not the photographer for you. If "fetish" means your friend's gasmask and electrical tape and copious amounts of fake blood is all you need to create horror; don't waste your time or mine, trust me, I'm not the photographer for you. Join the rest of the adolescent circus on MySpace, you'll fit in fine there and surely receive lots of comments to celebrate your mediocrity and boost your ego. Modeling is not for the faint of heart. Not everyone is a model and not every model is good. Same goes for photographers and mua's and stylists. Grow a thick skin and move on.
I look for models with versatility and a fire in their eyes. I need ones with equal parts patience and passion and who are comfortable in their own skin. I'm not here to give you the internet equivalent of an Olan Mills portrait or Glamour Shots. I'm fortunate enough to be paid for what I do, but I will not sacrifice my artist's integrity for anyone. Contact me if you think you can deal with my insanity, if I'm interested in your look, I'll respond. Sadly due to the amount of mail I get, I cannot respond to each one personally.

Other self serving places to locate me on the magical internet
Model Portfolio - "Acid PopTart" 7744
Styling Portfolio - "The House of Smoke and Mirrors" 534024
MySpace
Livejournal
I am indebted to Aaron Kennison (#56663), who has taught me so much. He is a fabulous talent and a dear mate.
Verified Credits (0)
Worked with Acid PopTart Production? Share your experience and become verified!
Add Credits