Details
Last Activity:
Apr 11, 2013
See Less
Friends (446)
Lists (2)
Photos I Wish I Had Taken
2 Photos
Deeliciously Twisted's list of killer photos
3 Photos
See Less
About Me
*´¨)
¸.·´¸.·*´¨) ¸.·*¨)
(¸.·´ (¸.·´ WELCOME·*´¨)
**Please leave a comment or introduce yourself before sending me a friend request**
I'm doing very LIMITED TFP shoots. (For a TFP shoot, you have to be able to do your own Hair & Make-up MORE then what you wear to the mall! & bring your own amazing outfits! & help with gas....DON'T ask IF you can't do those things for yourself PLZ!) I'm open to collaborating with cool, creative people. If you want to talk about working together, don't be shy to contact me! If you want to shoot with me, please be specific on what you're looking to shoot when contacting me. * Please don't just say "hey let's shoot". I'll only TFP if you have a look I need and/or a concept that will benefit both our portfolios in a positive and progressive way. For paying jobs, my rates are good, but it depends on the scope of the project. And I'm always looking for good MUA, hair and stylists to collaborate with.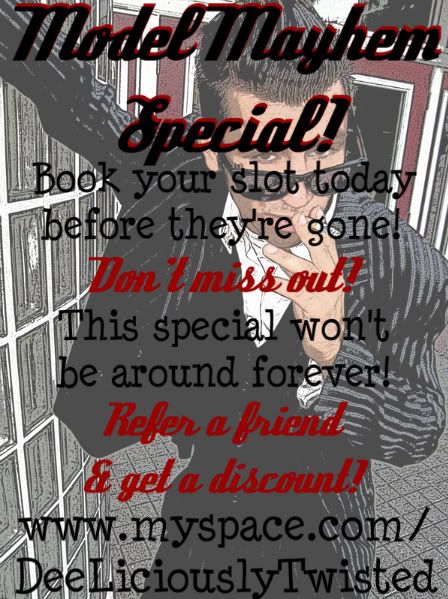 Hello and thanks for looking, I am currently concentrating on Vintage fashion and Artistic work. Looking for models interested in collaborating in tasteful creative artistic projects, ladies, any age over 19, with or without experience, bright & colorful clothing, tattoos etc. I like bright colors and intimate portraits. Also doing B&W 40's & 50's glamour pics. We can shoot in several indoor & outdoor locations which I have access to. Contact me if interested. I am always looking for artistic collaboration so if you have ideas that you are interested in shooting, please contact me to discuss them.
Check my pics to get an idea or e-mail me with your ideas.
Thanks again.
*~*~*~*~*~*~*~*~*~*~*~*~*~*~*~*~*~*~*~*~*~*~*~*~*~*~*~*~*~*~*~*~*~*~*
Deeliciously Twisted Photography is a venture that began long ago with the birth of diversity. It's a unique company that uses elements well beyond the norm, so that each picture, each model and each project has its own identity. Many have tried to develop into what this company is quickly becoming but all have fallen short. With our qualified staff who come from all walks of life and with their own experiences Deeliciously Twisted Photography is the next generation in Photos and Digital Design.
*~*~*~*~*~*~*~*~*~*~*~*~*~*~*~*~*~*~*~*~*~*~*~*~*~*~*~*~*~*~*~*~*~*~*
We are looking for models with some experience who have PROFESSIONAL attitudes and are looking to build up their portfolio's with fun and interesting photos. Our staff is fun and friendly while maintaining a professional attitude and we strive to create a comfortable environment for both the model and the photographer.
Prompt payment is expected for services rendered. Down payment of up to 10% due upon scheduling of appointment. Down payment will be withheld if appointment is canceled with less than 24 hours notice.
*~*~*~*~*~*~*~*~*~*~*~*~*~*~*~*~*~*~*~*~*~*~*~*~*~*~*~*~*~*~*~*~*~*~*
Our rates are very reasonable and you won't be disappointed! So If you are interested in setting up a photo shoot, Please contact us via message or MySpace. OR you may contact us at
[email protected]
*~*~*~*~*~*~*~*~*~*~*~*~*~*~*~*~*~*~*~*~*~*~*~*~*~*~*~*~*~*~*~*~*~*~*
_./'..._¸¸.•¤**¤•.¸.•¤**¤•….*
*•. .•**Shoot for the Stars*..**
/.•*•... ¸..•¤**¤•., .•¤**¤•.*.*
.....YOU ARE ONLY AS GOOD AS YOUR LAST PHOTOGRAPHER !
Photography-The ability to capture beauty in things that go unnoticed
Createyourownvisitormap!
Hi, My name is Desiree, I am the Owner & Photographer of DeeLiciously Twisted Photography.
ALSO known as Dark Star
*~*~*~*~*~*~*~*~*~*~*~*~*~*~*~*~*~*~*~*~*~*~*~*~*~*~*~*~*~*~*~*~*~*~*
http://www.myspace.com/deeliciouslytwisted
Verified Credits (0)
Worked with Deeliciously Twisted? Share your experience and become verified!
Add Credits
Credit Notes
-Models-

Blair Grimoire MM # 459014
Jazzy 2Tone MM # 691168
Ana Matera MM # 297525
Kimea Gosby MM #783747
Eli IppolitoMM # 618755
Tyler Kolski MM # 805086
Michelle Bishko MM #781269
Allie Hayes MM #120303
Count Stoczkowski MM #858557
Marble Goddess
Poison Ivy
Kailyn Reynolds
Brandin Lewis
Kevin Steckbauer
Kiara Villar
Heather Michelle
Rebeca Marshik
Nicole Vabre
Lucien
Dawn
Candice
Mania
Marshall
Nick
Angelina
Morgan
Angela
Jersey
Greed
Tommy
Jeremiah J.
Shannon
David
DJ
Arianna
Danielle
Donnie


-Hair & Make-Up-

Harlie Sparrow
Eli Ippolito MM # 618755
Ana Catastrophic #297525