Details
Last Activity:
Apr 20, 2016
Experience:
Very Experienced
Compensation:
Depends on Assignment
See Less
Friends (1441)
Lists (4)
Amazing MakeUp and Hair
14 Photos
Amazing Outfits
24 Photos
Amazing Poses and Expressions
28 Photos
Amazing Scenes/Concepts
50 Photos
See Less
About Me
"If Life is boring, then you're doing it wrong"
- Lancelot The Vampire
All shots taken and animated by LancelotTheVampire
________________________________________________________________________
================================================================
IMPORTANT!
I'm currently looking for people who are interested in a project I'm getting ready for. I have most of the people who are going to be involved all set, but I'm currently on the look out for people who might want to fill in, just in case the people I already have in place can't make it for any reason.
I'm looking for:
- Female Model(s): preferably strong, and able to swing something heavy. Latex may be involved, so any allergies might be an issue.
People I haven't worked with, and people who are willing to accept my rates are going to get priority on this one.
I'm not giving a lot of details unless you're assured to be a part of the shoot, but still contact me if you're interested.
________________________________________________________________________
================================================================
***I'm still in the National Guard, and also going back to college with a part time job as a Fitness Instructor. My free time is limited, but I'm still looking to shoot. Give me a reason to request a day off! Haha***
And be sure to check out my other profiles here:

My Modeling portfolio:
- http://www.modelmayhem.com/LTVmodel
My Photoshop Wizard portfolio:
- http://www.modelmayhem.com/LTVPhotoWiz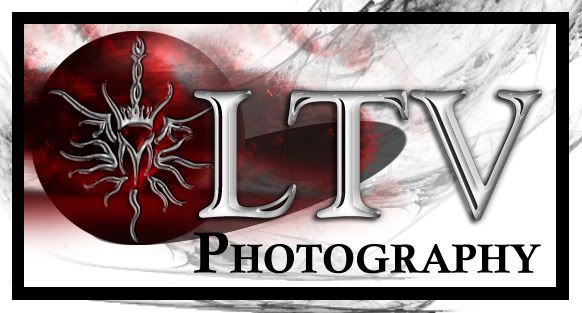 Note:
I'm truly well aware of how painfully long my profile is, so if you're one of those people who can't sit and read everything, I've put down the necessities in
BOLD
if you're looking to work with me.
Update: No more Cd's. I am no longer giving models a copy of the images on a CD. During the shoot, or even mailed after. Too many models are using my shots without editing, which would not be an issue if I didn't put so much effort into the edits themselves.

I understand that I take a long time to edit pictures for people, but my editing is why you want to work with me in the first place, right? If you have the time during or after the shoot to go through the pictures with me, then we can pick out your favorites and I'll focus on editing those first. Aside from that, you'll get the pictures when I'm done with them.
My time online, as well as my availability, are both extremely limited. Not only that, but I've got a list of people I'm already currently trying to make shoot plans with, and need to work with. If you're contacting me now, you'll be on the list, but I've gotta get through those who have been patiently waiting first, and of course the people who are paying are getting 1st priority. So just understand that I'm NOT blowing you off.

THIS MEANS THAT IF YOU'VE SEEN ME ONLINE OR LOGGED ON AND I HAVEN'T RESPONDED TO YOUR MESSAGE, IT'S STILL THERE! I STILL HAVE IT! I JUST HAVEN'T BEEN ABLE TO REPLY TO IT YET!

I need people to start realizing that I can only edit as many styles as we do. I'm not a photographer who will shoot with you and be able to get you 5 to 20 edits within a month or two. My edits are precise and intricate. I don't just throw some brushes together, and spend less then 5 minutes on it. Some images require more editing then others, and it all depends on my level of editing for what the picture requires.

Also, I don't like to repeat myself. I normally only post and edit through my all time favorite pose and scene of EACH outfit and/or scene. I only do a second or third edit if the pose/scene was different enough to make it look like a new picture, or if it feels necessary and requested by the model. Other then that, It's normally only one edit per outfit style/scene.
I look for people who know how to bend their face and give good expressions in their pictures. I want emotion. I've worked with people who have never modeled before, and ones who have worked in modeling for years. If you can bend your face, and put some expression through the camera, we'll do just fine even if you've never modeled a day before in your life.
I'm 29 years old and my style is that of a darker artist. If you want to put a category on me, I'm a Romance/Dark/Gothic Style Art Photographer. I normally take very dark, morbid, or solemn pictures, but I can shoot anything from Fashion to Glamor to Night Clubs, and more. I'm always open to different styles and have done a little bit of everything at some point.
I like to shoot Dark and Gothic art because it's what I know, and who I am. I like to shoot romance shots because I'm a high believer in true love and old fashioned romance. However, don't let this deter you from working with me. I can, have, and enjoy shooting all styles and themes.
I've been into Photography for over 12+ years now. I'm completely self trained, and I've worked with film and digital, but found to prefer digital, since I consider myself a new-age photographer/editor. Not to mention how much of a pain it is to bring film into Photoshop for retouching and editing.
When working with a new model that I prefer a full day, or at least a half day after Sundown worth of time for shooting with a model that I have not worked with prior.

The reason being, that when working with a new model, I prefer to do a test shoot, and try a couple of outfits with no specific idea in mind and free flow for a short period of time. This allows me to better understand how you and I work together, and how I do what I do. I learn what your strengths and weaknesses are, as well as how well you pose, work with facial expressions and interact with me.

I also need this time to show you some of my pre-edit and post-edit work so that you can see what you're getting into when working with me.
I'm working with a Nikon D50 Digital SLR Camera w/ 18-135mm DX Zoom Nikkor Lens and a SB-800 AF Speed light Flash Attachment. I also have my Nikon D70, and D300. All decently modern equipment, but I'm not a tech-queen, where I need the newest gadgets.
I have Adobe Photoshop CS5 at my disposal and use it for most of my pictures for editing. Very rarely will I ever let something onto a final cut without being edited at all, but it's been known to happen to get barely touched if I feel it can't get any better then it is. I'm the kind of photographer who takes 250 to 350 shots and uses only 3 to 5 for posting. I'm primarily a TF offer if I'm going for a specific idea with people.
I'm very friendly and completely respectful to any and all models, and I never mind having a significant other or friend or two there if it would make you feel more comfortable. In fact, I actually prefer to have a significant other there, so that if I need to move or change your pose, I can have them move and pose you so that I can stay near the camera, and you can relax with someone moving you that you're comfortable with.
I'm very compromising and open. Quite honestly, the model is the one in front of the camera, so I'd rather you be the comfortable one out of the two of us.
I only do artistic nudes on request from the model. Not that I have anything against it, but I just don't want people to like my artwork for the wrong reason. I will do it, and have done it, but only if the idea appeals to me. I guess it depends on the situation with the model and the idea.
I like to have music playing to flow easier, you can bring your own, or go through my collection.
I also like to model and I have my own props for all my shoots, from swords, to handcuffs, to clocks, really old fashioned lanterns, and more. I do, however, appreciate models who bring their own arsenal of props with them as well.
The best ways to contact me are via here (on Model Mayhem),

- http://www.lancelotthevampire.deviantart.com

...or my cell phone, if you have it.
Pleasant Somethings,
Photo by HS Photo, Edited/Retouched by LancelotTheVampire
Verified Credits (0)
Worked with LancelotTheVampire? Share your experience and become verified!
Add Credits
Credit Notes
Past Models/Photographers/MUAs I've worked with directly:
Feel free to ask for my professional opinion of each.


- Model: Satin Satan (Not on MM)
- Model: Desert Jewel (Not on MM)
- Model: Paisley Adams x1 (MM #2204121)
- Model: Kitty Krillsex x1 (MM #1125906)
- Model: Raven Kitty Taylor x3 (MM #2010957)
- Model: Roberta D. x1 (Not on MM)
- Model: Oceana Mae x1 (MM #2671747)
- Model: Kennedy Fae x1 (MM #1329708)
- Model: Lil Dead Girl x2 (MM #277465)
- Model: Sarah Pandora Hauk x1 (MM #1118152)
- Model: Heidi x1 (Not on MM)
- Model: Tara x3 (Not on MM)
- Model: Christa Renee x1 (MM #1352781)
- Model: Mary_Jean Binnall x1 (MM #1263904)
- Model: Miss Jinx x1 (MM #108522)
- Model: Alexa Karii x1 (Not on MM)
- Model: LeilaHazlett x1 (MM#1429917)
- Model: Olivia Pierce x1 (MM#466119)
- Model/Photographer: Devan The Impaler/DevanellePhoto x6 (MM #639210/#690029)
- Model: Sabath x1 (MM #186346)
- Model: Phaeidra D x1 (MM #1605142)
- Model: Northern Siren Model x1 (MM #1558923)
- Model: SherriMarie x2 (MM #682962)
- Model: _Xaphan- x1 (MM #1689694)
- Model: Kitten Kaboodle x1(MM #509907)
- Model: Miss Mischief x2 (MM #663923)
- Model: Vykkie Vulnerose x1 (MM #1496496)
- Model: Jovi Kates x1 (MM #1287912)
- Model: Derek Speten x1 (MM #676439)
- Model: Casey_Calypso x1 (MM #1508577)
- Model: Not_Your_ChinaDoll x1 (MM #409712)
- Model/Photographer: Alison Little/Alison Wonderland x20+/x5 (MM #282050/MM# 1558355)
- Model: Mikayla Dionne x1 (MM #1484283)
- Model: BrittanyTalia x (MM #1362357)
- Model: Miss Carnage x1 (MM #1218222)
- Model: Alaska Freed x1 (MM #1380123)
- Model: _Forlorn_ x3 (MM #612895)
- Model: Drusilla KillSwitch x1 (MM #140247)
- Model: Triana Trench x4 (MM #394342)
- Model: Jon B. x1 (Not on MM)
- Model/MUA: AZombie x21/ x5 (MM #1190035)
- Model: Courtney W. x1 (not on MM)
- Model/MUA: Lavida Livy x2/x3 (MM #1306284)
- Model: Rozalynn x1 (MM #1078150)
- Model/MUA: Jayne Riot x5-Mode/x7-MUA (MM #251673/MM #1182606)
- Model: Vivica Lase x1 (MM #598954)
- Model: Laney Bug x2 (MM #594571)
- Model: -Lydia- x1 (MM #477955)
- Model: Charlie Girl x1 (MM #888108)
- Model: _Lady D_ x3 (MM #1107454)
- Model: Saruladom x2 (MM #263920)
- Model: B Debauchery x2 (MM #623704)
- Model: Mochalicious x1 (MM #586735)
- Model: Tricia Lee x1 (MM #900281)
- Model: Courtney Vesper x1 (MM #876534)
- Model: YoukoSunshine x1 (MM #838148)
- Model: Beth Claire x1 (MM #638232)
- Model: Lena Mattux x1 (MM #390077)
- Model: Samantha Dark x2 (MM #645230)
- Model: Mel S. x1
- Model: Jen T x1 (MM #137862)
- Model/Photographer: SpookyDigitalGirl/Digital Evolution Project x17 (MM #559920/#751904)
- Model: Neeko Nissa x2 (MM #830243)
- Model: Yelena K. x2 (MM #596062)
- Model: KittieD x1 (MM #734529)
- Model: Angie Chambers x1
- Model: Kimber Dawn x1 (MM #132304)
- Model: Trina Lee x1 (MM #549353)
- Model: Serenity x1 (MM #513605)
- Model/MUA/HairStylist: KandicePretty x1 (MM #523200)
- Model: Eric Brandon x1 (MM #570960)
- Model: Amy Meridith x1 (MM #788404)
- Model: Lindsay Nicole x3 (MM #11765)
- Model: MsInnocence x1
- Model: Fetish Dolly x1 (MM #5023)
- Model: Christa Marie x1 (MM #534237)
- Model: Eric X. x1 (MM #264865)
- Model: Lunabella/"Gothic Diva" x1 (MM #505554)
- Model: Brian Parks x1 (MM#133307)
- Model: SilentPerformance x6 (Not on MM)
- Model/MUA: RedLittleGirl x1 (Not on MM)
- Model: Lindsay A. x1 (MM #282954)
- Model: Daphne Damage x1 (MM #434940)
- Model: Fayleon x1 (MM #372073)
- Model/MUA: Suspended Doll/Annis Sangsue/The Alter Evil x4
- Model/Photographer: HaloRoundMe x3
- Model/Photographer: Harley Quinn x2
- Photographer/Model: Spyke Photography/DragonFire x3/x2 (MM #874896/No Model MM profile)
- Photographer: Darkwell Studios x2 (MM #1392294)
- Photographer: Damsels in Distress x1 (MM #1079639)
- Photographer: Erb Photography x1 (MM #142546)
- Photographer: xTheDarkJester x5 (MM #1150752)
- Photographer: Shayl Photography x2
- Photographer: Addam/Addamidiom Digital x1 (as a model) (MM #416131/#11456)
- Photographer: Liquid Light x2 (MM #673218)
- Photographer/MUA/Hairstylist: RivkaBerman Photography x2 (MM #658041)
- Photographer: LouS x2
- Photographer: HS Photo x1
- Photographer: Visions by Baker Photography x1
- Photographer: M. Prophet x1
- Photographer: Robert Siegelman x1
- Photographer: GSPhotography/GSP-Lifestyle x2
- MUA: Lauren O'Jea x1 (MM# 1125264)
- MUA: Katie Grace Bouchard x3 (MM# 1155033)
- MUA: Matt Weston x1
- Hairstylist: Mallori Stender (not on MM)
- Hairstylist: Sisters Of the Moon x3 (MM#594865)
- Wardrobe Designer: Latex Nemesis x3 (MM #588031)
- Model/Wardrobe Stylist: Lectra Paris/Dementia Clothing x2 (MM #130597/#597845)
- Wardrobe Stylist (As a Model & Designer): Black and Blue Designs x2 (MM #317318)
- Wardrobe Stylist: SewOeno x1
- Wardrobe Stylist: MTCoffinz x5 (MM #626710)
- Wardrobe Stylist: Miss Noxy/Noxema Jones x1

Clubs/Promotions that I've worked at:

- VIP Photographer for Warped Tour 2010 with Alkaline Trio and All American Rejects
- Official Photographer of Dominia & The Colosseum in Providence, RI (now closed)
- Hathor's Garden in Providence, RI (now closed)
- Dark Star in Providence, RI (now closed)
- Club Hell in Providence, RI (now closed)
- Dark Intentions in Lowell, MA (now closed)
- Sanctuary in Boston, MA
- Decadence in Providence, RI
- Black Sun Festival IV in New Haven, CT
- AAC '08 in Nashua, NH