Details
Last Activity:
Mar 02, 2020
Experience:
Very Experienced
Compensation:
Depends on Assignment
See Less
Friends (551)
Lists (9)
Awesome Headshots
20 Photos
MUA's that ROCK !!!
0 Photos
Planet Lissa's list of killer photos
71 Photos
Smile for the camera :)
8 Photos
The eyes have it
17 Photos
See Less
About Me
Thank you for viewing my profile! First things first, if you are looking for a skinny girl keep looking ... I am voluptuous and curvy & I like it that way! I hope you enjoy the pictures
vo·lup·tu·ous (ve-lop-choo-us)
adj.
1. Giving, characterized by, or suggesting ample, unrestrained pleasure to the senses
2. (of a woman) sexually alluring because of the fullness of her figure
3. pleasing to the senses
☆ ☆ ☆ CURRENTLY LOOKING TO UPDATE MY PORTFOLIO !!! ☆ ☆ ☆
Any ideas or concepts that you have in mind BRING IT
-------
BIO:
-------
I have been modeling since my teen years growing up in California. I got my start doing work for The Gap , Esprit & Jessica McClintock. Most of my experience is in lingerie, swimwear and pin-up/glamour type shoots. However, I am always open to new ideas if you have something else in mind. I would like to do more commercial style work & have begun to work in that area lately which is exciting. I also do promotional modeling, import modeling and trade shows as well as own my own company ROCKSTAR ENTERTAINMENT and can be hired to emcee or sing at your next special event!
https://www.facebook.com/pages/Rockstar-Entertainment/118420258628
Promo shot by Law LaCasse #22819.
My posing and expressions range from wholesome to provocative. I have a wide variety of looks, and I always work hard to make sure we have a creative and productive shoot ! I am able, if necessary, to do my own hair & make-up however, prefer if a MUA is available. This allows me to fully concentrate on what I am there to do.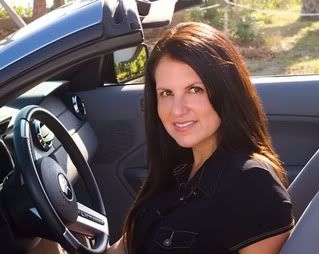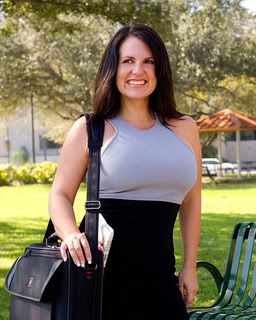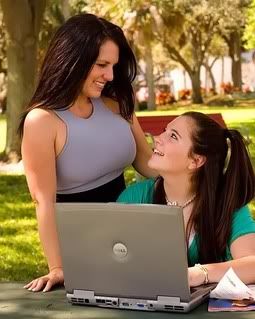 CHECK OUT MORE PICS AT ONEMODELPLACE.com
http://member.onemodelplace.com/member.cfm?ID=26124
and
MY 18+ MODEL MAYHEM PORT
http://www.modelmayhem.com/planetlissa
-----------------------
BOOKING INFO:
-----------------------
☆Currently seeking paid assignments. My rate varies depending on the type of assignment. (Contact me for more info
[email protected]
)
☆I bring an assistant with me on all shoots.
☆I do have agency representation, but I am not exclusive.
(I can book my own work)
☆I am very professional and like to be prepared at the shoot, so please be descriptive on the job details listed below:
- Shoot date
- Length of shoot
- Location
- Wardrobe/MUA/Hair supplied
- Theme/Style of shoot (ie. lingerie)
- Intended client(s)
- Travel expenses covered
- Pay/Salary offered
***SPECIAL NOTE REGARDING TFP/TFCD****
I accept select TFCD's if I feel that the shoot would be beneficial to my portfolio. I am currently looking to work with selective well established Photographers and MUA/Stylists for Commercial/Editorial only. (I do require a CD of ALL images.) Let's collaborate & get some awesome images!!! If you have an idea that is exciting, I would love to hear it.
I am sure your time is as valuable as mine, so tfp's/tfcd's that are unpaid depend on the job and photographer and what the pictures will be used for as in submissions or special projects. I am willing to travel if all expenses are paid. (Please keep in mind I will NOT do nudes for tfcd unless it is for submission only)
---------------------
SPECIAL INFO:
---------------------
Small tattoo on right hip (quarter size) and c-section scar (both can be covered with make up, clothing or photoshopped out) - Belly button piercing (can be removed)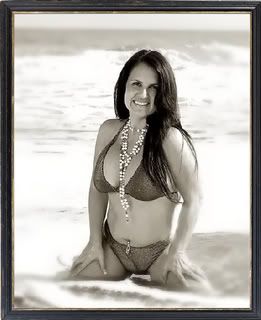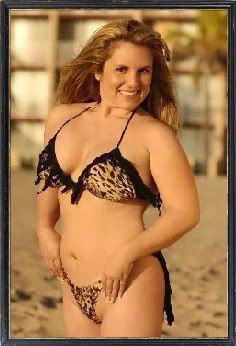 Verified Credits (0)
Worked with Planet Lissa? Share your experience and become verified!
Add Credits
Credit Notes
☆ MODEL MAYHEM PHOTOGRAPHERS I HAVE HAD THE PLEASURE TO WORK WITH:
Albert Ortega #4633
Hamlin Photo #683
Todd Rupp Photography #23624
Michael Rosen #1941
G. Katsis Photography #26411
Law LaCasse #22819
Chris Oakley #5059
Robert J Gray #251688
Pashur #1727
John Sluder #631993
CSP Photography #690197
John Ferrentino #192694
Steve Mick Photography #472435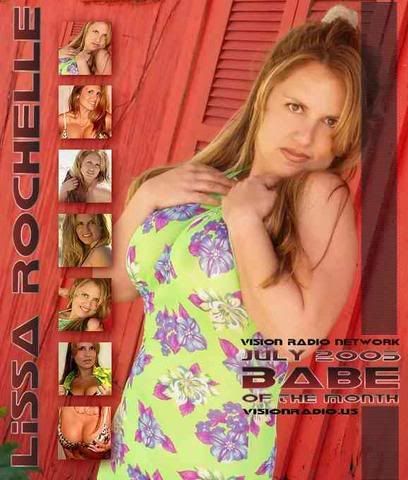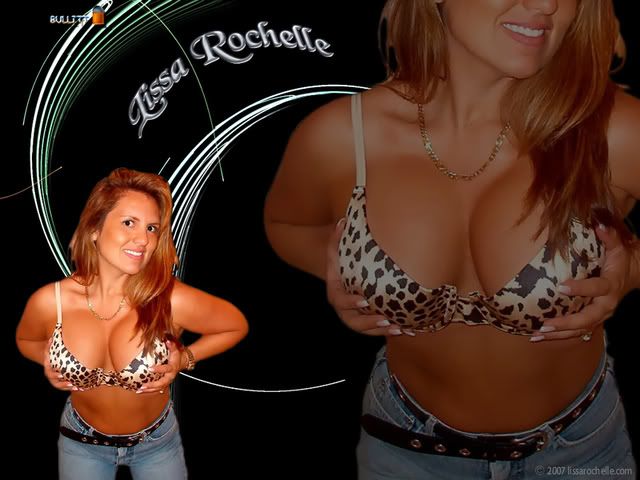 ------------------------------
PERSONAL RESUME:
------------------------------
TELEVISION , FILM & VIDEO
* The Fast and the Furious 2 / Universal Pictures / Extra role- Drag racing fan
* Bad Boys 2 / Columbia Pictures / Extra role - Beach babe
* Armegedon / Sony Pictures / Extra role - Reporter
* Any Given Sunday / Warner Bros. / Extra role - Cheerleader
* True Lies / 20th Century Fox / Extra role - Hotel guest
* CSI Miami / CBS / Extra role – Clubgoer
* Limp Biscuit Video - Extra
* Notorious BIG Video - Extra
PRINT
* Nifty Magazine's Sexiest Issue Ever - Summer/Fall 2009
* Red Skye World Comics - "Time Hunter" featuring Lissa Rochelle
http://redskyeworld.com/comics-timehunter-lissa-rochelle.htm
* Dixie Biker Magazine - Cover February 2009
* Tequila Sauza - National Print Ad
* Los Mejores de Rock Magazine - Model of the month, International Print Ad
* Oyster Magazine - Feature Model Layout April 2005
* Chart House Restaurants - Advertisement (Patron)
* Hard Rock Hotel & Casino - Print Ad ( Bartender )
* Planet Hollywood Restaurant - Print Ad (Patron )
* Universal Royal Pacific Resort - Print Ad (Hotel Guest)
PROMOTION/ SPOKESMODEL
* Wildlife Preserve Benefit - "PSYCHEDELIA" Body Paint Model
* Dixie Biker Magazine - 2009 Bike Week
* VMA Awards, Miami, FL * BNRX.com Feature Model 2006
* Vision Radio Babe July 2005
http://visionradio.us/july2005.htm
* Miss January 2005 Gentworld
http://www.gentworld.com//lissa.shtm
* Tampa Superbowl Budweiser Girl 2001
* Miller Party - New Millenium / Playboy Mansion-2000
* Miss Tequila Sauza 1990-91
* Corona
* Bacardi
* Red Bull
* Skyy Vodka
* GMAC
* Mercedes Benz
INTERNET
* Body Rockin.com - Model of the Day, May 4th, 2009
http://www.body-rockin.com/user/model_details.php?id=869
* Red Skye World.com - Official Red Skye Model - Top 5 Model for September 2009
* KISS 95.1 FM - Space Coast Hot Mom Contestant - #2 out of 137 Contestants
* SexiestMomsClub.net - February 2009 Featured Model
http://www.sexiestmomsclub.net/lissarochelle
* Truedivas.com - Featured Model
http://www.truedivas.com/club/Lissa_rochelle
* LoveandAction.com - 2009 Bracket Babes Contestant
* Nifty Magazine - Sexiest Model Alive Top 100 Contestant
* HogsandRods.net - Featured Model
http://www.hogsandrods.net
* Brevard Art Museum's "Annie Leibovitz: Women" Exhibit - Florida Today Contest (Photo submitted by Robert Grey)
* Body Chicks Apparel - Internet model
* Amazing Dreamgirls 2005 February Feature Model
* BNRX.fm - Babe of the Month March 2005
* 2005 FEBRUARY BIKINI CONTEST WINNER
http://absolute-bikini.com/lissarochelle.htm
* PlatinumBabes.net - Featured Model January 2005
* TOP 100 GIRLS of YAHOO - Ranked #1 in Sept and Nov 2004
* September 2004 Superthong.com Feature Model as well as
1st Runner up for 2004 Superthong Model of the Year
* Sexynetbabes.com - Featured Model July 2004
LIVE PERFORMANCES
*Lead/backing vocals - 2007 thru 2011 - Southpaw Band
http://www.myspace.com/southpawsouthernrock
*Backing vocals -Miller Music Fest 2007 - Busch Gardens w/Southpaw Band
*GoGo Dancer- Playboy Mansion 2001- New Yrs
*GoGo Dancer- Playboy Mansion 1998- Halloween
*Performed live with Dancetroupe at Knottsberry Farm and Disneyland
TRAINING
* High school/College Drama
* Singing lessons
* Dance lessons (Modern, hip hop, ballet, jazz)
INTERESTS/SPECIAL TALENTS
*Singer (Alto to soprano)
*Dancer (Modern to hip hop to jazz)
*Various Dialects (ie. British, Southern, New York, Valley girl )
*Aerobic kickboxing / Weight Training / Jet skiing / Surfing/ Tennis / Rollerblading
*Hard working, Extremely professional and Very reliable
________________________________________________________________________________________________________
Check out my kiddies !!!
http://www.modelmayhem.com/JamesBlake
http://www.modelmayhem.com/641051
________________________________________________________________________________________________________