Details
Last Activity:
Jun 23, 2014
Compensation:
Depends on Assignment
Hair Length:
Shoulder Length
See Less
Friends (430)
Lists (4)
Photographers I'd work beautifully with
1 Photos
Little Darling <3's the Darkside
0 Photos
...left me speechless
0 Photos
Little Darling's list of killer photos
0 Photos
See Less
About Me
Check the Datebook at
http://www.pinupsforpitbulls.com
for upcoming Burlesque & Modeling by Little Darling.
Live Modeling Video on Animal Planet's 'Pit Boss' by Little Darling for Pinups for Pitbulls:
http://www.youtube.com/watch?v=-ArimxBFEX4
Past performances!
DC!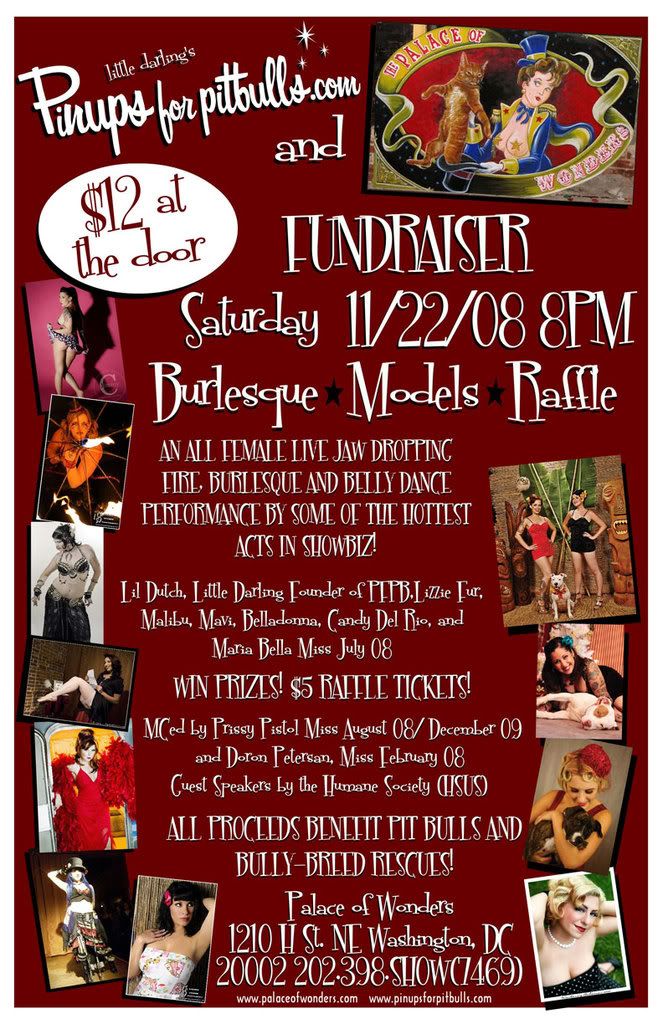 " border="0" alt ="Photobucket"/>
Past Performance(s):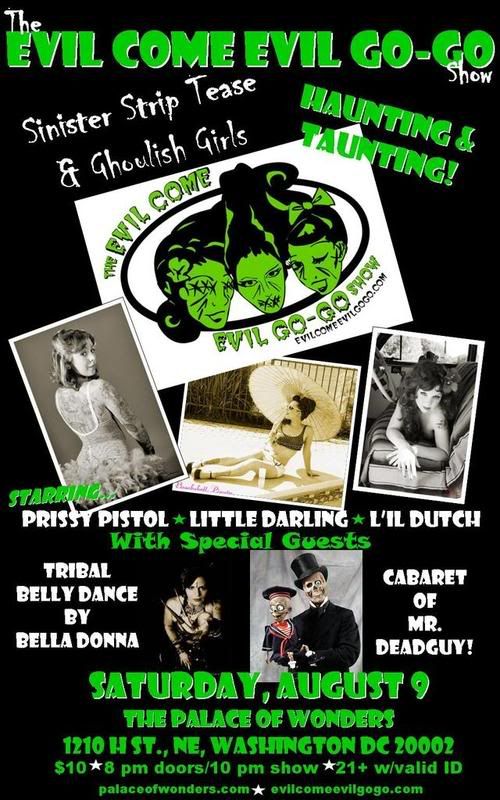 " border="0" alt="Photobucket" />
*Booking with you? Write me.
If your work blows my mind, i'll travel.
If you just want to build your portfolio, I will ask to be paid.
Fair enough...
I feel that my portfolio is already very well-rounded, but would always like to add new and creative photos when prompted with a great concept!
Add me on myspace.com/heartsandstarlets
Don't be a creep! Don't ask me to meet you in a dark alley to offer me gifts. CREEPY is only cool IN photos.
Upcoming Shoots/travel:
Aug 31st: Pinups for Pitbulls: MISS APRIL shoot
Sept 7th: Long Beach, CA: Pinups for Pitbulls cover shoot
Upcoming Performances:
August 9th: Palace of Wonders, DC
Sept 13th: Palace of Wonders, DC
Oct 31st: Palace of Wonders, DC
Previous Travel:
Hong Kong and Mainland China April 2008
Los Angeles/Long Beach, CA May 2008
Chicago Summer 2008
Long Beach, CA Summer 2008
Jamestown, NY/Toronto, Canada Summer 2008
ORDER YOURS AT
http://WWW.PINUPSFORPITBULLS.COM
$20/Each + $5 S&H
NOW BOOKING FOR 2008:

* I am an Authentic Burlesque Perfomer with the Hellcat Girls Burlesque (Philly) and Evil Come, Evil Go Go Show (DC), and Solo
*Pin Up
*Glamour
*Dark Art
*Clothing Lines
and more...
TFP or PAID, depends on the assignment.
Write me.
2007:
10/15 D'Ottavio #2354
10/20 Azzara #15842 (with Wandering Bohemian)
10/21 Depaganel #234282 for Lollipop Magazine
& Winter Series
10/22 A. Martin #13184
10/8 Pinups for Pitbulls shoots with Bombshell Pinups #36620
Bombshellpinups.net
9/30 Pinups for Pitbulls shoots with Bombshell Pinups #36620
Bombshellpinups.net (AMAZING PHOTOGRAPHER)
9/22 Evelyn (DePaganel) MM#85721
9/22 D'Ottavio MM#2354 Shoot/Interview
9/23 Bombshell Pinups for my Pinups for Pitbulls Calendar MM#36620
9/15 D'Ottavio MM#2354
9/15 Wandering Bohemian MM#1793
August 2006 Rick Miller MM#915
**********************************************
I began at Knecht Dance Academy in Levittown, PA when I was 5 years old. I first learned ballet, but when my curiosity grew stronger, I immersed myself in Tap, Jazz, Modern, West African, Hip Hop, Swing, and Concert/Club. I have performed for many clubs throughout New York, Michigan, and New Jersey. I have performed with several live bands including Dresden Dolls and Zao. My soul is alive with passion for modeling and dance.
I am not interested in nude modeling, unless it's extremely artistic and more suggestive.
I have a B.A. in Film Production/Screenwriting from Hunter College in New York City with a Minor in Dance. I have also directed several short films and have acted in many independent productions, as well.
Projects/Styles I am interested in: Couture, Fashion, Alt Modeling, Circus/Carnival , Creative, Dark, Pin Up/Vintage Look, and stylized imagery. I am open to many projects. I also would be interested in working in film and video projects for bands, Independent Films, and related ideas. Please keep me in mind for modeling for your clothing lines!
I will work select photographers/stylists/MUAs for paid jobs or TCFP/TFP depending on the project.
I have also been an artist's muse, and I loved that role!
I was placed in a body cast to become a human magnet for a project by New York Sculptor Tim Blum. The project is in several art books that he has been featured in.
My site features more of my modeling work, hiring availability for Vaudeville/Burlesque and Cabaret dancing, as well as, hiring for advertising clothing, instruments, and other sites.
Contact me via MM or my website
http://www.iheartlittledarling.com
p.s. All though I am petite, I have many gorgeous platforms that bring me up to size:)
Verified Credits (0)
Worked with Little Darling? Share your experience and become verified!
Add Credits
Credit Notes
2010 Featured on Animal Planet's TV Show PIT BOSS-Modeled Pin Up for the episode, shot by Shannon Brooke.
2008
*2009 Cover model for Pinups for Pitbulls, Inc.
Photographer: Shannon Brooke
MUA: Jennifer Corona
Set Design: Tiki Ray's
Swimsuit provided by Pinupgirlclothing.com
*Miss April: 2009 Pinup for Pitbulls
Photographer: Wandering Bohemian
MUA: Jessica Rabbit
http://weareallbeautiful.com/
Set Design: Me/Little Darling
Corset/Costume provided by kvodesign.com (karen von oppen)
MISS NOVEMBER 2006 MY VINTAGE HUT PIN UP CONTEST
http://www.myvintagehut.com/LittleDarling.html

Recent Credits:
http://www.iheartlittledarling.com
(formerly
http://www.heartsandstarlets.com
)
http://www.pinupsforpitbulls.com
http://www.wanderingbohemian.net
DEPAGANEL.COM
http://www.dottaviostudios.com/
BOMBSHELLPINUPS.NET
http://www.gothichangmanstudios.com
Model for
http://highballsociety.com/
Click on "services" to see live action modeling of moi
Model for:
http://www.retrobombshell.com
performer with the Hellcat Girls, Hellcatgirls.com
-Philly Based
performer with the Evil Come, Evil Go Go Show
http://www.evilcomeevilgogo.com
myspace.com/evilcomeevilgogoshow
THE BEST IN HORROR BURLESQUE -D.C. Based
Burlesque performer and winner of the "New Goddess of Burlesque " contest May 2006
with Hearts and Starlets, and Hellcatgirls.com
Performer with the Devil Dolls, Michigan
VISIT MY STORE AT
http://www.cafepress.com/heartsnstarlets
http://www.myspace.com/heartsandstarlets
http://www.heartsandstarlets.com
http://www.onemodelplace.com
Member ID#217110
http://www.tao-of-tattoos.com/dre-tattoos.html
*********
Live Photo of me @ the Trocadero in Philly