Details
Last Activity:
Nov 20, 2020
Experience:
Very Experienced
Compensation:
Paid Assignments Only
See Less
Friends (319)
Lists (1)
Photos I want to use as inspiration
6 Photos
See Less
About Me
Facebook Fan Page - come like my page!
Photo Galleries
Website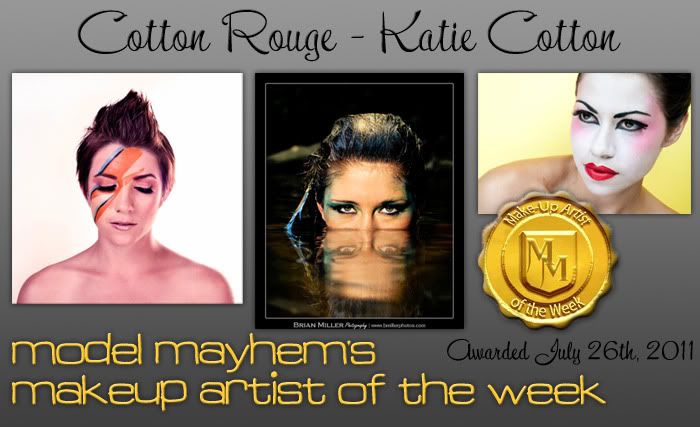 I am a full time makeup artist in Greenville SC. I label myself first as a makeup artist but am also proficient at styling hair. I've been studying and doing makeup professionally for the past 15 years. I resided in Los Angeles for quite some time working in the Fashion and Entertainment industry but also have work and credits in other areas of the country (most notably Chicago and New York). I moved to the Upstate of South Carolina after starting a family with my husband. I work all over the upstate of SC (including Greenville, Greer, Spartanburg, Anderson, Gaffney, etc) but am willing to travel with expenses paid. Please contact me for those rates.
I have extensive experience in lots of different makeup mediums. I frequently use airbrush for foundation, but do use traditional foundation as well. I have worked with all ethnicities and am well equipped for it in my kit.
Since my move across the country, I have really had a strong lead and one of the premiere on location Bridal Makeup and Hair artists for the upstate including developing a group of artists who work both for me and under me to book out for weddings and other events needing makeup. I have won numerous Bridal Makeup Artist awards (the Knot Makeup Artist of the Year 3 times, Wedding Wire Bride's Choice award 6 years, as well as others and have also been published in numerous bridal magazines. I love weddings! I love making a bride's day perfect! I can also style hair and am very adept at doing the entire bridal party. I travel to you, so less stress on you for your wedding day!I use my Model Mayhem port more to show off fashion makeup needed for photoshoots and the like, if you would like to see more of my bridal work, please check out my website or my Facebook page.
I have worked all ends of this field from politics to well, you name it! I love love love everything to do with makeup! I love to have FUN! I am bouncy, smiley and just a tad hyper when i've drank too many latte's but still professional of course.
At this time I am not accepting any shoot where I am working for free. Please remember the cost of makeup (i use high end cosmetics, airbrush and top quality hair products, and these are not cheap). I know that everyone has costs in this industry (the photographer's camera and lighting equipment, model's wardrobe, etc) And everyone has talent they are donating. The difference for me is that I am using up product that I will not get back. I AM willing to work on a test shoot with a set creative concept for a very minor kit fee to cover product costs when all the ingredients (concept, model, photographer) are in my interest. Thank you for your understanding on this! If I contact you about a creative shoot idea, and i am more or less the creative director of the shoot, of course then i am paying myself!
You will definitely perk my interest when the shoot has a guarantee tear sheet or is for a magazine submission.
Having worked in the entertainment and modeling industry, I am able to help in many aspects in a photo shoot. I can help guide models with posing, body postion and overall comfort in front of the camera. I can help with wardrobe styling if necessary. I excel in being able to change a models look within a shooting session, so you can get various shots and concepts from 1 shoot. I also am developing my photography portfolio! You can find my photography portfolio here on MM at #1946569.
I am OF COURSE still available for bookings as a makeup artist only! Thats the first passion! So photogs, please dont feel that because I am learning the camera that I don't want calls from you too!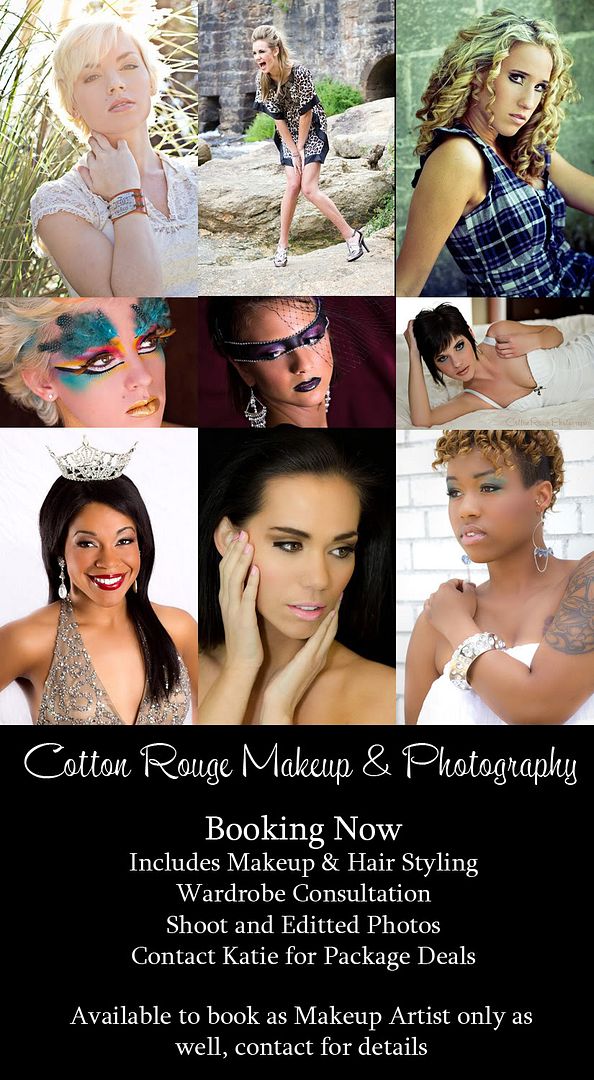 CURRENT CASTING CALLS:
Ongoing Casting: As previously mentioned, I have taken up the camera and am building up my portfolio. In these photos I am doing the photography and the makeup/hair styling. I am looking for models for this, though I will be casting for the ideas I already have in mind. Shoot days and times will most often be weekday mornings or sundays, other times are negotiable.
This is a test/trade shoot. I am NOT asking for a kit fee for this. If you are interested in modeling, please contact me!
Current Shoots Ideas: Bollywood, 1920's, 1940's, 1950's, classy boudoir, avant garde makeup ideas are always abounding in my head
You can view my website for more photos of my work at
http://www.cottonrouge.com
to read more about what I do. Please feel free to check out my facebook fan page
http://www.facebook.com/cottonrouge
Verified Credits (0)
Worked with CottonRouge-KatieCotton? Share your experience and become verified!
Add Credits
Credit Notes
Design Credits
Key MU/Hair - Southern Tide clothing company
Key MU/Hair - People Weekly Magazine, Heros Among Us (issue June 20th, 2011)
Key MU - Charter Media/Ford Nascar Drivers
Key MU - Casio Commerical
Key MU/Hair - Shanghai Tattoo Company Promotional Materials
Key MU - Harrison Orthodontics Promotional Materials
Key MU - Pedal Chic Fashion Show
Key MU - McAuley's Fall Fashion
Key MU - BMW Group Press Conference 10.13.2010
Key MU/Hair - ApeHanghers Grill shoot, Oceanside CA
Key MU/Hair - McAuley's Summer Fashion
Key MU - Rex Rice for Congress Video Campaign
Key MU/Hair - Lela Rose Fashion Show, Coplons
Key MU/Hair - McAulley's Unique Boutique, fashion promo materials
Key MU - Kentwool Golf - promotional materials, makeup for pro golfers
Key MU - Astonish Results, Palmetto Insurance commerical
Speaker and Adjudicator - American College Theatre Festival Region 4 (2008, 2009)
Key MU - CBS News, Face the Nation, Senator Lindsey Graham (ongoing)
Key MU - Carolina Uplink Makeup Artist
Key MU - Southern Bridal Couture Fashion Show
Key MU - Film, Leverage, Lydia Martinelli dir.
Key MU, Hair - Switchfoot, Music Video, John Watts dir. Smuggler prod.
Key MU, F/X & Hair - 10 Years, Music Video, Kevin Kerslake dir. Crossroads prod.
Key MU - International Model and Talent Association, Hooray For Hollywood Competition
Key MU & Hair - 2nd Edition Promo Materials, Sterling Mngmt
Key MU - Music Group Promo Materials, Dollshouse
Key MU & Hair, Expert Advice - Cheeracise Video, Todd Rungren prod.
Key MU & Hair - Press Conference, etc, Christmas in The Clouds
Key MU & Hair - Band Promo Materials, Ordinary People
Key MU & Hair - Keith Ferrazzi, TV Pilot
Key MU - Spa Soiree's "Extreme Makeover" Spirituality Edition
Key MU - World Championships of Performing Arts, dance show
Key MU/Hair - Sterling Mngmt Resource/Promotion Materials
Key MU/Hair - GNC NPC Los Angeles Figure and Fitness Championships, Lindsay Productions
Key MU - JLee Couture Print Ad Campaign 2005
Key MU/Fx/Hair - Indy Film, Premonitions Dir. Shawn Sourgoose
Key MU - 2005 MVPA Awards, dancers and celebrity presenters
Key MU/Hair - Star Power Entertainment Agency Shoot
Key MU/Hair - Orange County Muscle Classic XXIX
Key MU/Hair - Mag Cover & Feature, Prosperity Magazine
Key MU/Hair - Mag Spread: Best Selling Author Dan Carrison, Research Magazine
Key MU/Hair/fx - PSA W/ Alan Thicke and Bill Kirchenbaum, Baldguy Productions
Asst MU/Hair - Infomercial/Commercial - The Color Company, Jill Kirsh
Asst MU/Hair - Nike Commercial, Smuggler Prod.
Workshop for Ball State University; taught students makeup use for film
Key Hair, Asst MU - Yoko Ono Music Video, Every Man/Every Woman, Partizan Prod
Key MU/Hair - Fashion Runway, Kami Shade - The Collection
Key MU/Hair - Beck Music Video, Black Tamborine, Associates in Science dir., Partizan prod.
Key MU/Hair - Barbizon Modeling School (Long Beach) IMTA competition (Runway, Fashion, And Print Commerical)
Key MU/Hair - Barbizon Modeling School (Sacramento) IMTA competition (Runway, Fashion, And Print Commerical)
Asst MU - ADIDAS - ad campaign, NBA stars
Key MU/Hair - Fashion Runway - Designer Kami Shade
Key MU/Hair/fx - Searching for the One, independent short; First on Earth Productions
Key MU - Destructed, independent short Rochelle Productions
Key MU/Hair - Infinite Talent Orange County
Key Hair, Asst MU - Creme de la Creme, models and dancers
Key MU - Album Cover, Singer/Artist Faezeh
Key MU - Featured Artist, @ Magazine, @ Your Entertaiment
Key MU - Featured Artist, Trashee Cosmetics
Key MU/Hair/fx - Downtown Fairytale, independent feature
Cardinal FilmWorks
Key MU/Hair/fx - Outside, independent short Featherwind Productions
Key MU/Hair/fx - Library of Poetry and Song, independent short Featherwind Productions
Key MU/fx - Boy Gets Girl, Cave Theatre, IN Carinne Uslar, Dir
Asst MU - Lysistrata, University Theatre, IN Karen Kessler, Dir
Asst MU - SideShow, University Theatre, IN Judy Yordon, Dir
Asst MU/fx - Romeo and Juliet, Minnetrista Cult. Center, IN Don LaCasse, Dir
Key MU - Egomanagement Productions