Details
Last Activity:
Jul 27, 2011
See Less
Friends (705)
Lists (6)
I love Redheads Bcuz I'm one too!
7 Photos
Artist involved that I Know/Love!
7 Photos
Catching Dee Sanchez eye
12 Photos
Dee Sanchez' style
5 Photos
Dee Sanchez Love Loves!
6 Photos
Deanna Sanchez's list of killer photos
14 Photos
See Less
About Me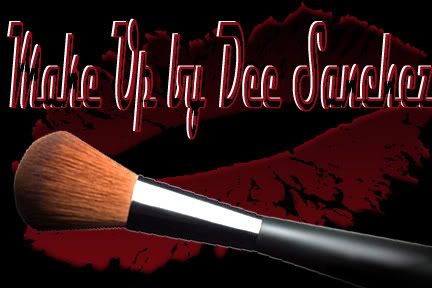 ***Please read if interested in working with me. These are my requirements!!!!!!
***Please contact me at
[email protected]
and put "Makeup Artist" as the title or here is fine as well!***
I do request to receive the photos from a TFP/TFCD and paid shoots in the same time frame as everyone else involved in the shoot. This statement is the agreement when in fact you do contact me for a shoot.
***TFP/TFCD are normally done with my friends on MM.
***I don't mind working out TFP/TFCD deals for Higher profiled events or 2 or more models at a shoot or if it benefits my Portfolio.
***Contact me and we can work out some arrangement, doesn't hurt to ask!!
***When showing up for a make up application, please have your face clean and hydrated.
***These are at least 2 things that are very important for a smooth make up application. It cuts down on time too!
***It must be known ahead of time for eyelash application. It has an extra fee.
***Time: Please do not ask me to be there at a certain time if you are not gonna be there at that time.
***If I do not know you, whether you being the photographer, model, etc. I will most likely bring a escort to the shoot if I feel it necessary. They are also professional.
***If we work together, I also expect that you will put my MM# under the photos that we worked together on.
I have a strong work ethic, very energetic, and willing to work hard. The make up I do is very versatile. I have been told I have a "talent" for Makeup...I just love to make people look beautiful! I listen well to what people want and work well with everyone. Being very outgoing and spontaneous, I can assure you whether you're new or a pro we will have FUN! I try my hardest to make the models comfortable at shoots. I know it is a little nerve racking especially if it is your first time!
Verified Credits (0)
Worked with Deanna Sanchez? Share your experience and become verified!
Add Credits
Credit Notes
Training: Sephora SOS in Chicago-training classes in color, skin care and fragrance. Currently a make up artist. Since 1998.
Sephora:
Make up lines that I am Trained in and familiar working with are:
***Dior
Benefit- I am certified in this brand
Guerlain
Urban Decay
Make up Forever
Givenchy
Shiseido
Tarte- I am certified certificate awarded in this brand!
Bare Minerals
Too Faced-I am certified in this brand!
Stilla
Smashbox- started certification
Nars
Cargo-started certification
Anastasia eyebrows
These are the lines that I play in Every Day at work!!!!
EXPERIENCE: Film-"Freal"- I also assisted as the official P.A. to the main actress. I helped her through the long, 15 hour day in any way she needed. I made her comfortable.
I also played a peasant woman in the film.
TV Commercial-Luna Cosmetic Centers
TV Commercial- Mood Lighting with director Cameran Freeman from California
Go Detroit-Cover
Real Detroit-Cover
Back Cover-Strut Magazine
Pink Magazine
Metrotimes
Lucky Strike/Tequila Rain 2007 to 2008 Calendar (Also assistant and helped organize)
Lingerie and swimsuit Runway shows with La Corsetiere (also assistant and helped organize)
Motor City fashion week 2007 (Runway shows)
Numerous Promotional Model Shoots
Model Test shoots
Maxim Magazine Hometown Hottie shoot with Jennifer Sills (Model) Photasa (Photographer)
Dance Recitals
Pageants
Local Cable show out of Jackson, MI.
Many Wedding Parties
Detroithooligans.com shoots (recruiting models and make up)
"Mood Lighting" Commercial at Centaur Bar, Makeup Artist
Artists in the Biz... I have worked with****
MM #'s:
***Grimya 122410
Chandra 145067
David Birdsong
Lethal Lisa 2323
Nikkita 196336
Alli Bez 615478
Nathan Bett 633476
Sylvie-Cherie 659154
JQ:Fiyar 4937
K Berry 629743
House of Myonne 567394
George Petersmarck 384498
Christopher Maddox 664964
Jessica Syswerda 784627
Amanda Jean 38704
Becky Earwood 384310
Lindsey Daroci 684950
Kayla Glazier 592992
Rachey Marie 460211
Photasa 509220
MarisM 681350
Jacki Graham 424986
Sabrina Nichole 274476
Stacey Lafata 597150
Allante Mitchell 770384
Kimberley Renee 615783
Bayley Alexandra MM
Sasha Falero 550272
Stefanii
Barney
I have also been involved in a fashion show with me as the make up artist for 10 models and Donaven Salon of Canton, MI. as the hairstylists.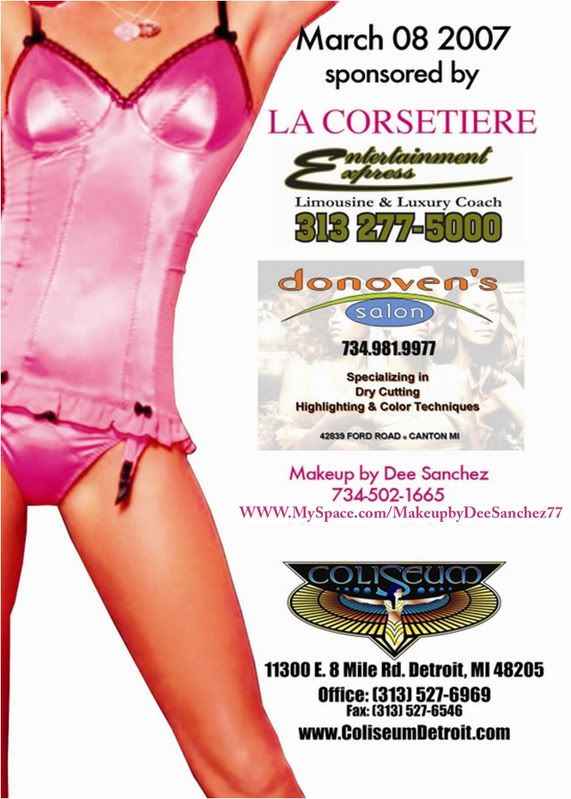 I have also done the make up for models in another fashion show that Ghettos of Novi, MI. did the hair and some make up.
***Metromedia photography and I also work together on a regular basis.
***I have also worked with Denny O' Connor photography.
***I have also worked on shoots, recruited models, assisted with props, hair and wardrobe, and assistance in organizing fashion shows held at places like Tequila Rain, Novi and Collesium. I will help in any way I can. I have a lot of experience in being thrown in anything from a shoot in the woods or studio with 1 model to the shortest amount of time to do up the longest line of models at a fashion show. I know what to expect!
I work in the promotional teams for Luckystrike Lanes/ Tequila Rain and for Larry "People are Talking" I promote at different bars and towns. I have promoted 4th of July fireworks booth in Detroit as a scout in search of models for Larry of Hollywood Topics modeling agency.
****You can also find me currently on the home page of live streaming online TV at MuseArk.com