Details
Last Activity:
Feb 10, 2021
Experience:
Very Experienced
Compensation:
Paid Assignments Only
See Less
Friends (875)
About Me
*** NOW BASED IN LOS ANGELES ***
Professional globally published model and international burlesque and fetish performer - 7 years modelling experience, 12 years performance experience. Agency represented - non-exclusively - all independent bookings go through me.
Elvira in MUSE Halloween Special music video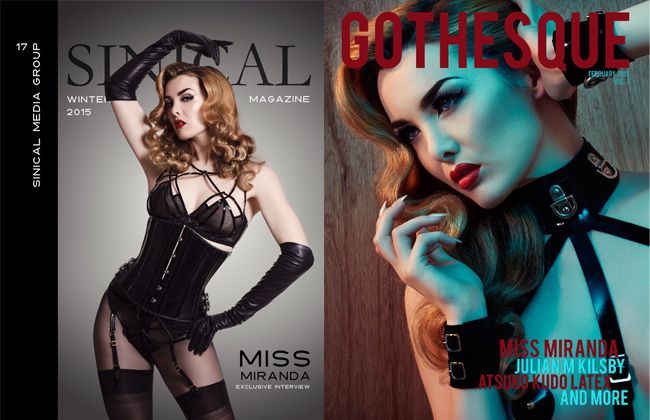 Covers for Sinical and Gothesque, Spring 2015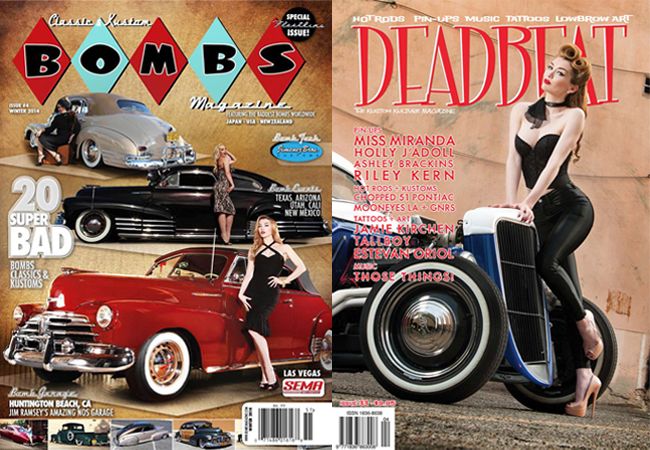 Covers for Bombs and Deadbeat, Winter 2014 / Spring 2015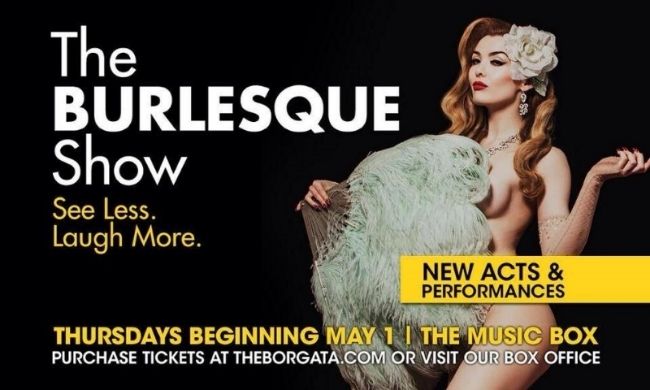 Billboard promotion for The Burlesque Show production at The Borgata casino in Atlantic City shot by Corwin Prescott
Very versatile model, with a passion for - but not limited to - retro / fetish style. Particularly interested in anything with a fetish / high fashion crossover feel!
Extremely adept in hair and make up, particularly 40s and 50s styles. I do my own hair, make up and styling for all of my burlesque performances and a lot of my photoshoots, including many of my portfolio shots - see photo credits.
I own an extensive collection of very high quality designer latex wear, lingerie, corsetry, fully fashioned stockings and extreme heels. Having worked with many of the best designers in the fetish scene, I can also borrow amazing clothing for shoots if I don't already own something suitable!
My rates are reasonable. Due to my experience, I rarely do TF shoots any more... unless I am in love with the designer or photographer's work (or preferably both!)
Very happy to travel, providing expenses are covered.
Please email me with enquiries, or for details on my rates:
miranda (at) miss-miranda (dot) com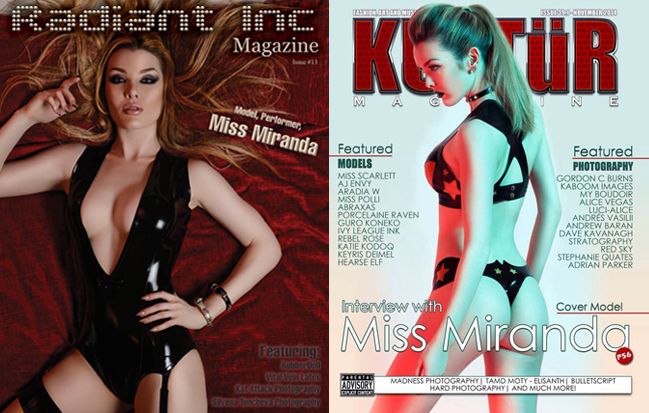 Covers for Radiant Inc July 2014 and Kultur November 2014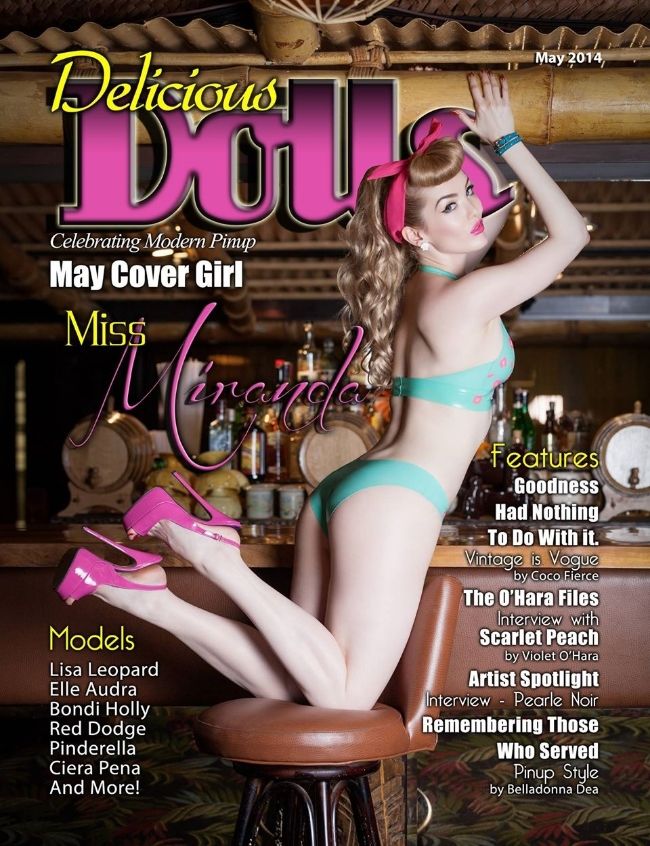 Delicious Dolls May 2014 cover - Kaori's Latex Dreams and Fabulously Fetish heels shot by Tigz Rice
Bizarre Magazine cover with Elegy Ellem, January 2013 and DDI Magazine cover, Spring 2013
Interview feature in Kultur - Spring 2014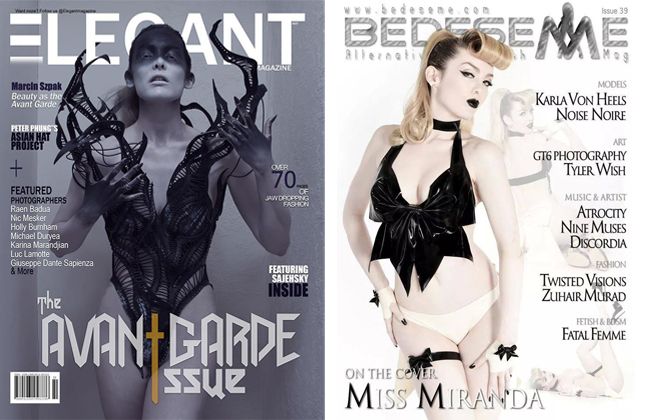 Covers for Elegant, October 2013 and Bedeseme, July 2014
Verified Credits (0)
Worked with Miss Miranda? Share your experience and become verified!
Add Credits
Credit Notes
Latest publications:

Deadbeat issue 33 - cover and 6 page interview feature shot by Shannon Brooke
Gothesque Feb 2015 - cover and 8 page interview feature
Bombs Magazine issue 4 - cover and 4 page feature
Sinical issue 17 - cover and 8 page interview feature
Kultur issue 39.1 - November 2014 cover and interview feature
Tradtional Rob & Kulture issue 40 - 'Rod & Kulture Girl' pinup poster by Viva Van Story
Radiant Inc Magazine issue 13 - cover and 8 page interview feature
The Powder Room, issue 2 - double spread shot by Shannon Brooke
Bedeseme issue 39 - July 2014 cover and interview feature
Delicious Dolls May 2014 cover and interview feature
Marquis issue 60 - double page pictorial
Kultur - 6 page interview feature
Pink Bow City - double page pictorial shot by Kaylin Idora
Retro Lovely - 1 page pinup poster shot by Viva Van Story
Temptress - 6 page interview feature
Bizarre - full page feature on The Double R Club
Pink Bow City - double page pictorial shot by Vestige Photography
Elegant - cover and 6 page pictorial for Katarzyna Konieczka
Vogue UK - What Katie Did quarter page feature
Queen of Hearts - double page interview feature
Radiant Inc Magazine - 2 page feature
Custom Harley magazine - cover and 4 page feature
Rebelicious magazine - cover and 8 page interview feature
DDI Magazine Global Edition - issue 76 - cover and page 3 image
Bizarre issue 198 - cover and 10 page interview feature, with Elegy Ellem
Advanced Photographer Feb 2013 issue - 1 and a half pages
Bizarre issue 197 - half page
Marquis issue 56 - 6 pages, fashion pictorial feature for Fabulously Fetish
Deadbeat issue 24 - double spread, pin up feature
The Fetishistas, September 2012 issue - cover and interview feature
Relapse - Rebellion issue, 6 page pictorial
Licked - issue 4, 6 page pictorial
Playful Promises online magazine issue 7 - double spread in 'Regal Rumble' feature
Loaded - 2 pages, issue 206
Custom Car - covers: June 2011, January 2012
Playful Promises online magazine issue 6 - cover
Playful Promises online magazine issue 5 - cover
Marquis issues 48 and 53 - half pages



Various performances at:

Tease If You Please - Los Angeles
Torture Garden - London, Prague and Tokyo
The Burlesque Show - Atlantic City
Bustout Burlesque - New Orleans
The House of Red Velvet - Los Angeles
No Vacancy - Los Angeles
Zen Arts - Los Angeles
The Slipper Room - NYC
Duane Park - NYC
Voodoo De Luxe - Milan
Playboy Club, London
Savoy Cabaret, London
The Double R Club - London
Gypsy Hotel - London
Cirque le Soir - London
Erotica (Ball and Expo) - London

Private events in Moscow, Madrid, Prague, Cabo San Lucas, The Seychelles, and more.


Recent events and appearances:

Core as member of Tease If You Please burlesque show, Los Angeles. Monthly ongoing.

Secrets in Lace lingerie catwalk showcase, Viva Las Vegas Rockabilly Weekend, Las Vegas, April 2017.

Ambient burlesque performance at private event for Ferrari with Dita von Teese, Hollywood Hills, March 2017

Burlesque performance to live band at Melody Sweets' The Sweets Spot, The Smith Center, Las Vegas, February 2017.

Burlesque performance at Tease If You Please NYE 2017 celebration with Mosh at The Standard, Downtown Los Angeles.

'Elvira' in MUSE 'New Kind of Kick' Halloween Special music video, October 2016

Burlesque performance at Dita Von Teese's NYE 2016 Extravaganza, Clifton's Los Angeles.

Featured burlesque performer and co-host (2016) at Theatre Bizarre, Detroit, October 2014, 15 and 2016.

Featured performer at The New Orleans Burlesque Festival, 2014,15,16 and upcoming 2017

Featured burlesque performer and pin-up contest judge at Yankee Car Show, Finland, October 2014

Billboard poster girl and featured performer in 'The Burlesque Show' - 6 week run at the Borgata casino, Atlantic City, August - September 2014

Burlesque performance and 2nd runner up prize winner at Viva Las Vegas burlesque competition, Las Vegas - April 2014

Burlesque performance in 'The Burlesque Show' run at the Borgata casino, Atlantic City, December 27 - 31 2013

Model for Atsuko Kudo Latex in Crane.tv documentary film, 2012

Spokesmodel for Atsuko Kudo Latex at Lingerie London catwalk and charity gala event, 2012


Designers:

Atsuko Kudo latex
Secrets in Lace
What Katie Did
Lady Lucie Latex
Elite Heels
Fabulously Fetish footwear
Dovima
The Pretty Dress Company
Steady Clothing
Bettie Page Clothing
Orchid Corsetry
Paul Seville
Bibian Blue
Katarzyna Konieczka
Jane Doe Latex
Kaori's Latex Dreams
Lux Tenebrae Leather
Puimond Corsetry
Rachel Freire
Sian Hoffman
Playful Promises
Kiss Me Deadly
Vital Vein
Paolita swimwear
Kriss Soonik
Miss Mandalay
Fraulein Annie
Ayten Gasson
Velda Lauder
Lucile lingerie
Karolina Laskowska
Besame Cosmetics
Tara Starlet
1 Eyed Designs
Libidex Latex
Collective Chaos

...to name a few!



Torture Garden catwalk fashion showcases for:

Bibian Blue Corsetry 2012, 2014
Lady Lucie Latex (various, 2009 - onwards)
Katarzyna Konieczka 2013
Jane Doe Latex 2012
1 Eyed Designs 2012
Roadkill Couture 2011, 2012
Sian Hoffman 2011
Ooh La Latex 2011
Eustratia 2011
Rachel Freire 2009, 2010
Libidex Latex 2010
Hedony Design 2010
Am Statik 2010


Books:

Erotic Bible to Europe
A Stitch in Time
A Serious Study of Mid-20th Century Lingerie
Love Me Like You Hate Me: Lessons in Pleasure and Pain
Domestic Burlesque

Film:

BLACK HOLE - short film directed by Anthony Ratcliffe
Punk - SHOWstudio fashion film directed by Rachel Couceiro
First Catastrophe - London 48hr SciFi challenge short film directed by Alastair McColl
Going Out - short pixillation film directed by Alastair McColl
Bird World - short rotoscope animation directed by Alastair McColl
South Coast Sweethearts - fashion film for What Katie Did lingerie directed by Anthony Ratcliffe

Music Videos:

New Kind of Kick - MUSE
Cheers for the Tears - The Urban Voodoo Machine
Rather You Shot Me Down - The Urban Voodoo Machine
Painkillers - Lauren Pritchard
6 In The Morning - Client
K.I.N.G. - Satyricon
Hotel Columbia - Jesse Malin