Details
Last Activity:
Apr 11, 2017
Experience:
Very Experienced
See Less
Friends (1070)
Lists (8)
beautiful clothes
45 Photos
beautiful tattoo work
6 Photos
ms jess hawk's 2nd favorite list
36 Photos
msjesshawk's 3rd favorite list
20 Photos
Ms Jess Hawk's list of killer photos
40 Photos
photos of msjesshawk
13 Photos
the most beautiful ladies
51 Photos
See Less
About Me
Hi there!! I am modeling again and wiling to travel. I'm self employed so monetary compensation for the work or gas or providing clothing would be extremely awesome. Partial nudes and nudes need to be compensated at a higher rate.
Any interest in fetish or kink photoshoots, please message me privately for further instructions on these type of photoshoots. I must be compensated for travel and time.
I am the creator for a.scarlet creations. My online store:
http://www.ascarlet.etsy.com
and my work is also in a few brick and mortar stores.
Attn:// Fashion Designer
-- If you're looking for a model to showcase your wardrobe, please get in touch. I have professional photographers ready on hand to meet your demands. Am mainly interested in Gothic Lolita, Victorian, and the usual alternative lifestyle. Also, I would like to start doing more fashion/runway shows.
I'm also a MUA and have created a few of my clothes for my shoots. If you are interested in a particular outfit and I would need to make it, please keep in mind time constraints fot it.
Hair: My hair color is green and I have a mohawk. Usually the sides are shaven down or shaved with something intricate.
Tattoos:
Right arm: orchid, old school bomb
Left arm: unfinished koi fishes, gold fishes, flowers, bits of old school. Rose on my ring finger
Chest: two Tokidoki swallows carrying shark bombs
Stomach: two black butterflies
Back: Non colored geisha with a dragon surrounding her
Right leg: silhouette of a owl on a branch
Head: worms, diamonds, strawberries
You can also follow me here:
on my facebook.
http://www.myspace.com/msjesshawk
http://zivity.com/models/msjesshawk
buy my wardrobe:
http://www.modelmayhem.com/po.php?thread_id=528614&page=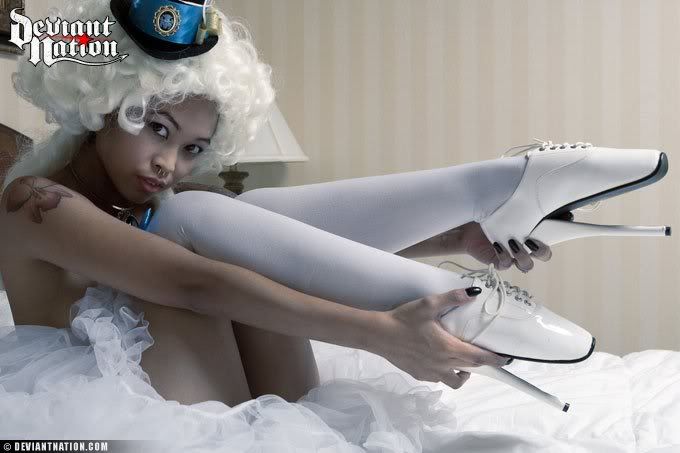 photo by Lithium Picnic for Deviant Nation
photo by Red Rum Collaboration for Zivity.com
Wanna buy some stuff:
make up:
http://www.modelmayhem.com/po.php?thread_id=617470
http://www.modelmayhem.com/po.php?thread_id=617465
http://www.modelmayhem.com/po.php?thread_id=617460
http://www.modelmayhem.com/po.php?thread_id=591625
http://www.modelmayhem.com/po.php?thread_id=591622
http://www.modelmayhem.com/po.php?thread_id=591750
http://www.modelmayhem.com/po.php?thread_id=596770
http://www.modelmayhem.com/po.php?thread_id=598569
http://www.modelmayhem.com/po.php?thread_id=599000
Verified Credits (0)
Worked with Ms Jess Hawk? Share your experience and become verified!
Add Credits
Credit Notes
Still updating (all my information got deleted)
People that i have worked with once or more:
Photographers:
EastBound #3756080
Deviant Nation #76299
Nathan Novak #873694
Lithium Picnic #581
Dastardly Dave #105703
Steve Prue #311
Red Rum Collaboration #226008
One stop Pin up #748877
Bombshell Pin ups #36620
Destroy Inc. #381203
Stuntkid #44831
Sayer #
Tina Dolin #715689
Jeff Baxter #12391
Kencredible #85419
Sarah Beth Faison #389535
glophoto #608426
Jon Mmmayhem
Vance #12771
Luminous Impression #
Bellagore #370805
ASYLUM #62236
keepsake photography #26176
Melissa Kuroda #32542
shujen #
Davood Salek #560914
josh davis #
studio x #500111
http://www.drivenbyboredom.com
banks media #1225756
Way Beyond Productions #308738
Baileys Photography #278276
Joesph Balestra #
Andy Jonelis #159238
CLT #105170
Dana Chapman #1644120
Lorimar #109303
Funktionhaus #1133801
Andy Virus
Dahrell Williams
Chrystal Stockton Olivero
Niki Byrum
Jeh3_photo
4 Shades Photography #97833
Christopher Bartlett
Motionography #2681105
Zach Bullock #1077241
Deep Digital #2437287
Evolve Philly #676793
Justin Cotterell
Longwatcher #165421
models:
liilii #642079
Lalo #854732
Atilla #45399
Rachel Dashae #98824
Deanna Danger #771940
pxe #505070
Melann G #2890554
Katrina Anne Palmer
Kristie Wolfenbarger
Deanna Marie #748891
Gabriel Dubois
BestGirlEver #3470488
David Meadows
Miss Dannielle #2486163
make up:
Camille Tee #376148
Atilla #45399
Companies:
Mixed up Designs #1084999
http://www.causeascene.com
-2 issues
rockin bones clothing #665919
Victoria Velvet #1178791
Taissa Lada Designs
Deanna Danger Designs
Atomic Bomb
East Coast Ink magazine
Taboo 2nd Annual Rock and Roll Fashion Show
Blac Label Fashion Show
Cut Couture
Film:
Midsummer Nights Dream Festival-Director Paul Cohen
Music Video-Rap Artist Mike Pain
if i missed anybody, i'm sorry but all my stuff got deleted.