Details
Last Activity:
Apr 29, 2022
Experience:
Very Experienced
Compensation:
Depends on Assignment
See Less
Friends (1565)
About Me
REST IN PEACE OLLIE... you will be missed brother... Mayhem #2349
OFFICIAL RIDZDESIGN WEBSITE:
• http://WWW.RIDZDESIGN.COM •
Instagram:
• http://WWW.INSTAGRAM.COM/RIDZDESIGN •
Facebook Fan Page
•
http://www.facebook.com/ridzdesign
•
•
http://www.facebook.com/ridwanadhami
•
My Shooting Parameters
No nudity! Under no circumstances will I get nude for trade, no matter how much persuasion is used - ever! I'm professional, and I hope you respect me enough not to send me TFP requests for nude photos.
Escorts are welcome to drop off model, have a sip of tea and crumpets, leave, and come back after shooting is done!
Gas money... Really now would you ask Johnny Depp for gas money?
Payment. I will not pay you, unless someone (client) is paying me.
Cell phone must be off. I know it's become a vital appendage but I promise you won't die with it off for a few hours.
Release required and photo ID. If you are lying about your age you will have to suck it up and leave.
Pushing the barriers of what is possible to what is impossible thereby creating THE image a must. Don't get all wimpy.
Ability to catch train also a must, (an inside joke.)
GPS equipped a MAJOR plus.
Dating. This is not a dating site! Do not ask me out to dinner unless you're buying.
Some of my work...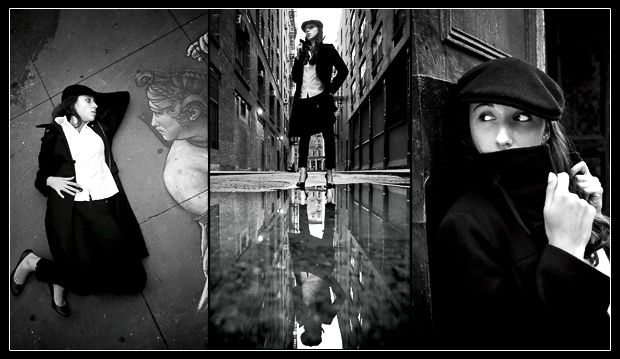 Sneaky Pete Album Art:
Secret Society Look Book:

Album Covers:
Ladies:
Gentlemen:

Welcome to my world ladies and gentlemen...
- A few notes, quotes and theories to give you an idea about who I am:
- I shoot REAL people in REAL places, that is my true passion -
- What I think about short models:
http://www.modelmayhem.com/p.php?thread_id=142502
- I would like to shoot more high fashion and beauty work, most of my work is gritty and grimy, and I just want to try different things -
- With the last statement being said, I also like taking high fashion and glamor models, and dirtying them up and taking them to the streets -
- I am especially interested in working with mixed race models, I feel they are the most beautiful for a reason, proof from a higher power that we shouldn't hate or discriminate against ANYBODY -
- It doesn't matter what camera you shoot with, its the EYE and the MIND behind it that make all the difference -
- Just because most of the work in my port is of musical artists, does not mean you can judge them as models -
- Just because I shoot HIP HOP artists, doesn't mean that I am only interested in doing hip hop work, creativity is key -
- Just because you got naked... doesn't mean you should have... or that it looks good...
- Just because I say "STAY CREATIVE" does not mean I am creative... I just wish to be one day...
- Just because you are a 5'10 female and are 100 pounds soaking wet does not make me interested in working with you -
- Just because you are a female with huge implants and doesn't mind showing them does not make me interested in working with you -
- Just because my name isnt tom or joe.. and it sounds like a rappers name... and i talk in semi street slang... and i have a bad attitude toward white people... does not mean I am black -
- Just because you put your hands on your hips backwards and arch your back does not mean you know how to pose -
- Just because you have an expensive camera... does not mean you are a good photographer -
- Just because you have an account on model mayhem... doesnt mean you should take photographs or be photographed -
If you have an issue with any of the above... i dont care...
More ridzims coming soon...
BONUS: - "if you are a chubby girl, that can make me laugh, with a gorgeous face, i WILL shoot you, (if you pay me) - Courtesy of Victoria Vertuga # 22793...
Verified Credits (0)
Worked with Ridwan? Share your experience and become verified!
Add Credits